China reportedly wants to enter the world of supersonic transport – under the water.
Rather than working up its own successor-to-Concorde project, the South China Morning Post says scientists at Harbin Institute of Technology's Complex Flow and Heat Transfer Lab are working on developing a technique called supercavitation, first pursued by the Soviet military during the Cold War.
The outcome of the Soviet project, the Shkval torpedo, could hit speeds of 200 knots (370 km/h), but higher speeds need more research.
There are two problems: the first is creating the right conditions for supercavitation, and the second is steering the vessel.
Supercavitation refers to giving the vessel a bubble to travel in, reducing the drag of water. In the SCMP diagram, the vessel is shown ejecting gas at its nose to maintain the bubble. This demands a high-speed launch to generate the air bubble in the first place, unless there's some way to let a vessel start slow but accelerate to supercavitating speeds.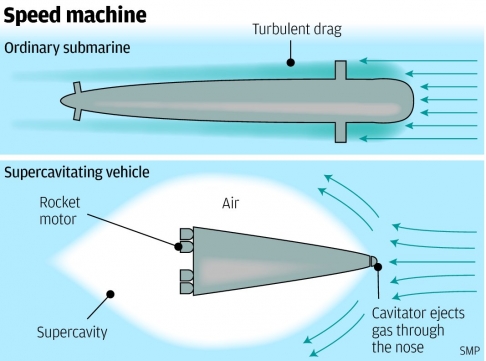 Supercavitation not quite supersonic - yet. Image: South China Morning Post
That's the bit the Chinese boffins reckon they've dealt with: their vessel covers itself with a liquid membrane at launch to deal with water drag at low speed. The membrane will wear away, but that doesn't matter so long as the sub can get to a high enough speed to generate its own air bubble.
The group also says its approach provides a way to steer the vessel: the liquid membrane can manage drag on one side or the other to change directions. "By combining liquid-membrane technology with supercavitation, we can significantly reduce the launch challenges and make cruising control easier," says Harbin professor Li Fengchen in the story.
If a vessel could exceed the speed of sound underwater – around 5,800 km/h, which is no mean feat to start with – it would travel from Shanghai to San Francisco in around 100 minutes. That, however, would also demand a lot of advances in rocketry to give a supercavitating submarine enough burn to cross the Pacific. ®
Similar topics