This article is more than 1 year old
Storage startups: Hey VCs, it's not just the size, it's the frequency
Backers should analyse patterns closely
Comment The funding pattern for storage startups has radically changed as newer young companies in hotly contested marts race for growth.
The chart shows the various funding events we have recorded for 32 individual storage startups. These may be declared VC funding rounds or strategic investments. The units are millions of dollars, and are listed in each horizontal stacked bar element.
Where the stacked horizontal bar elements are too short, or the details unknown, we have put in just a year ('11 for example), or a question mark.
These elements run from left to right in date order and the length of the elements relate to the size of the funding involved. The longer the total bar, the greater the total funding, with that number placed by the right-hand end of the bar.
Classic funding pattern
A classic storage startup funding pattern is four rounds to an exit, with each funding round being progressively larger. The exit means an IPO or an acquisition, both of which are intended to net the VCs a 4-5X return on their investment.
At this point the business should be self-sustaining, or have a clear path towards profitability.
When there are more than four funding events, then we can start to think that the market conditions for the startup business, its performance, or both, are not conducive to an exit. Moreover, if the funding amounts start shrinking from a high-point then they look like top-ups or emergency cash as the startup's growth rate isn't high enough.
Some startup companies operate for up to a decade or more with five or more funding events, suggesting that, although they can be successful and viable companies with good products, market conditions preclude a VC-rewarding IPO, or an acquisition.
Have a look at Coraid, Exagrid, and X-IO. And Nexenta too possibly. They all produce great products that their customers appreciate, but the competition in their market sectors is so great that they are unlikely to dominate (and so pave the way for either an IPO or acquisition).
We could say these companies haven't failed; their VC backers have.
So having said that, here are the charts, with startups listed in alphabetic order. (Click each one to enlarge it.)
The charts

Storage Startup funding. Click to enlarge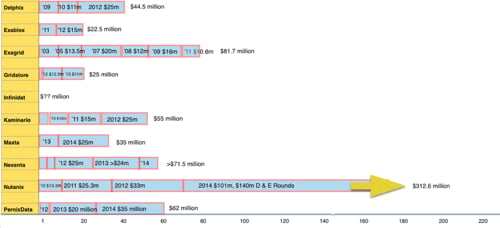 Click to enlarge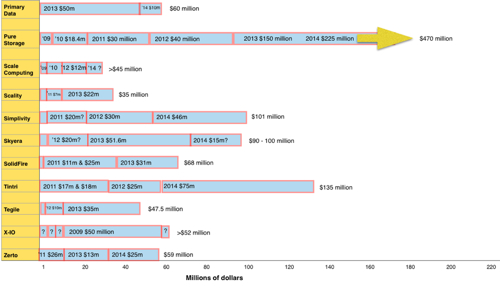 Click to enlarge
We can compare startup companies in a single market sector (for example, object storage) and see how well they are funded:
Amplidata - $36m total funding
Caringo - $10m
Cleversafe - $116.4m
Exablox - $22.5m
Scality - $35m
Cleversafe was gifted $55m last year to go out and grow its business. That's more than the total funding for Amplidata ($36m) or Scality ($35m), and makes Caringo's $10m look like throw-away cash. If Caringo is going to establish a network of offices and a reseller channel then it will need tens of millions of dollars in extra funding.
Both Scality and Amplidata may have to raise more funding to achieve the same business growth rate as Cleversafe is now able to envisage.
In the copy data management arena, it's instructive to look at the only two startups we know of: Actifio, with $187.5m invested over four rounds, and Delphix, with $44.5m raised in three rounds, the last one in 2012. An instant reaction is that Delphix will need to raise another $50m at least, to pay for the product and business infrastructure growth needed to keep up with Actifio.
The funding pattern for X-IO remains opaque. We understand that Oak Investment Partners is its sole VC backer, with Seagate CEO Steve Luczo leading a syndicate that loaned it $40m to buy an advanced storage architectures entity from Seagate. X-IO, as Xiotech, has had more than $52m invested in it.
Total investments in the storage startups in these charts amounts to $2.6bn, with two monster bets within them:
Nutanix with $312.l6m
Pure Storage with $470m
Nutanix's funding dwarfs that of competitor Simplivity, which is at a respectable $101m. Pure's $470m makes SolidFire's $68m and Kaminario's $55m look like pin money.
Are Nutanix's and Pure's backers VCs with foresight, far sight, and nerves of steel? Or, are they panicking, seeing the mainstream storage meat-grinders now offering little opportunity, with no prospect of ever getting their money back?
Time, the most ruthless judge of all, will tell us. ®