Benedict Cumberbatch in The Imitation Game: Glimpses of Turing's life, but that's all ...
A life lived in secret in more ways than one
---
Film Review It's never easy to portray the life of a genius on film. Although their achievements and abilities might fascinate us, there's not a lot of visual appeal in watching someone being good at maths, or painting really well or endlessly practising music. To make a good biopic of genius, it helps if your subject also led an eventful life, as Alan Turing did.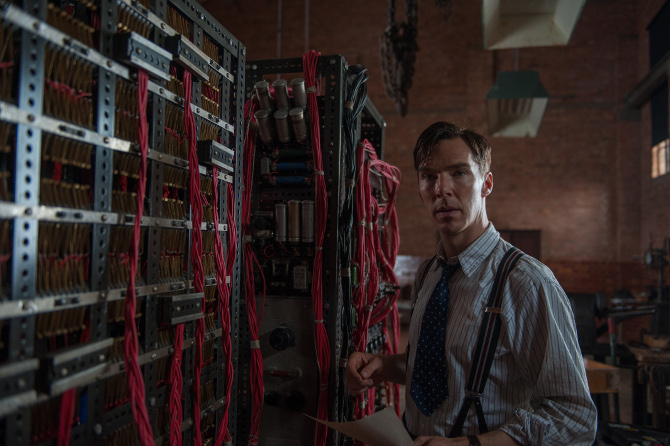 Alan Turing (Benedict Cumberbatch) and the Bombe machine. Credit: The Imitation Game/Studio Canal/Weinstein Company
The Imitation Game has all the dramatic elements necessary in Turing's life to drive a story that's really about how a group of mathematicians sat in a room and tinkered with a machine for years and years.
The film is set against the backdrop of World War II, when Turing lived his life of socially awkward genius while also hiding the fact that he was homosexual, something that remained a crime in Britain until 1967. He also worked in secret as a codebreaker at Bletchley Park, attempting to crack the German Enigma code using some of the world's first computers.
Yet despite this rich dramatic background, director Morten Tyldum and writer Graham Moore – adapting from the book Alan Turing: The Enigma by Andrew Hodges – don't always do enough to prevent the Hollywood treatment of Turing's tale, cherry-picking a version of the story that will suit most audiences and glossing over aspects of his life in a way that leaves you feeling a bit uncomfortable.
The film has already been the subject of some controversy in the portrayal of the relationship between Turing and Joan Clarke (Keira Knightley), whom he met and befriended at Bletchley Park during the war. Turing and Clarke were engaged at one point, which he later broke off after telling her he was gay, a fact she is said to have taken in her stride. The film has been accused of romanticising the relationship between the two and effectively sidelining his achievements and his homosexuality into a traditional Hollywood story.
Turing's niece, Inagh Payne, questioned whether casting Keira Knightley was the right choice, as Clarke was "rather plain".
"She was very nice, bright and a good friend to Alan ... When he told her about how he was, she accepted it, didn't make a scene or anything like that," she said last year.
"I think they might be trying to romanticise [his story]. It makes me a bit mad. You want the film to show it as it was, not a lot of nonsense."
In fact, this criticism proves unfounded, as both Knightley and Benedict Cumberbatch as Alan Turing do a wonderful job of portraying this relationship.
Knightley can't help the way she looks and the film attempts nothing so crass as sticking a pair of glasses on her to attempt to "hide" her good looks. However, she does manage to subtly come across as more normal with small alterations in behaviour, little ungainly movements and a lack of grace that turn off the movie star vibe and give you an ordinary but pretty woman instead.