This article is more than 1 year old
Hi-torque tank engines: EXTREME car hacking with The Register
Bentley found in a hedge gets WW2 lump insertion
Most car marques – Lagonda, Ford, Morgan and so on – have a proud history and the respective car clubs often worship the original form; if you present a car for judging, it had better be exactly as per factory spec. Or else.
There are notable exceptions and perhaps the most surprising, given the value of some of the cars, is the Bentley Drivers' Club (BDC). The company's founder, W. O. Bentley, used racing to promote the breed back in the 1920s and often modified bodywork and added bigger engines, so he is probably responsible for the BDC's remarkably laid-back attitude to car hacking.
But whatever the origin, nearly 100 years on, Bentley "specials", as they are called, are a vital and vibrant part of the club.
Specials also allow the impecunious to enter the world of Bentley ownership. I started with the chassis of a Mk. VI Bentley that had been in a field (forming part of the fence) for 15 years. It had the rear axle, the front suspension and nothing else. It was also considerably lightened; not for racing but by rust. You can imagine the first steps – strip bits off, sandblast chassis, paint, refurbish bits, bolt back on.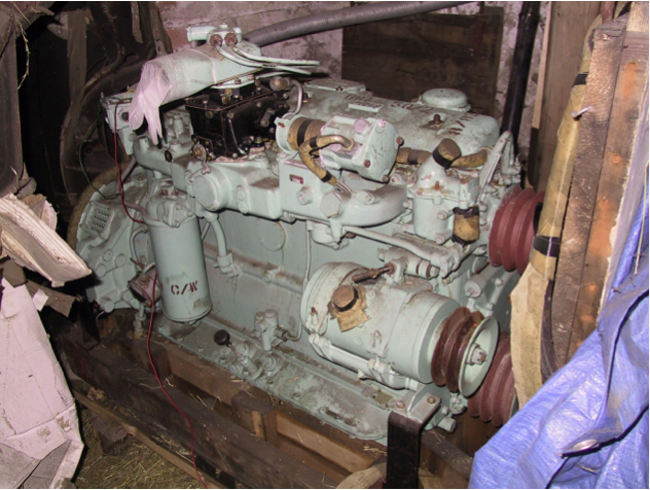 The mothballed B81 engine, photo: Mark Whitehorn
Next was the engine. The car would originally have had a 4.25 litre straight six but that was long gone and this was going to be a special so I did a bit of reading.
Rolls Royce (which bought Bentley in 1931) created a range of engines, primarily for military use, called the B series. These came in various sizes and many post-war military vehicles (Ferret, Saladin, Saracen, Martian, Stalwart etc.) were fitted with one. The largest engine, called the B81, was a 6.5 litre, straight eight that weighs about half a ton (it's cast iron), produces upwards of 330 ft/lbs of torque and around 220bhp.
I knew that Rolls Royce, in the pre- and post-war period, had fitted several experimental cars with an eight cylinder 5.7 litre engine. These were called the "scalded cats", a reference to their performance. A number of mothballed B81 engines still lie in crates in military surplus suppliers, just crying out to be fitted to cars, so I bought one, dry-sumped it (to lower the centre of gravity) and dropped it into the chassis.
After that, it was simply a matter of finding a very strong gearbox that was highly overdriven (to give relaxed cruising). We used a Tremec, as fitted to the Dodge Viper. Finally we built an aluminium racing body and we were good to go.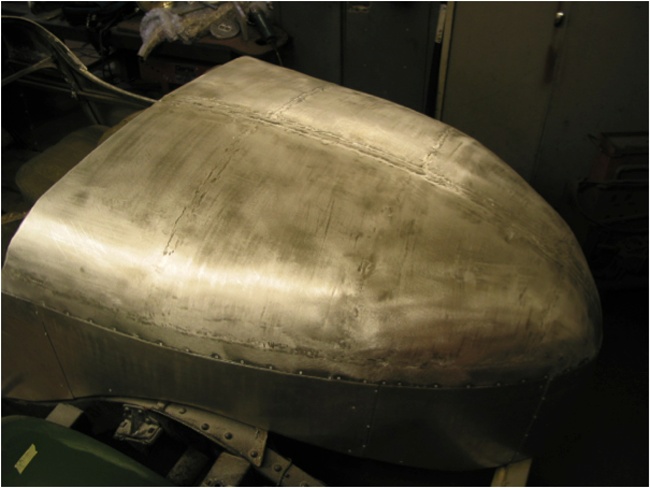 The fabricated aluminium body. Photo: Mark Whitehorn
I say "we" because all of this work has been in conjunction with many friends – notably Chic Doig on the first project and Paul Hazel on the second (see below). One of the major joys of any project is working with like-minded people.
It took about ten years to assemble the bits and build it and we (my wife and I this time) have been happily using the car for the past ten years or so. We've taken it to France, Scotland, Wales and all over England. It will cruise endlessly at 70mph with the engine idling at 1,760rpm. There is so much torque that I can use second gear to start and then change directly into fifth.