This article is more than 1 year old
Hello Barbie: Hang on, this Wi-Fi doll records your child's voice?
What could possibly go wrong?
Vid Toymaker Mattel has unveiled a high-tech Barbie that will listen to your child, record its words, send them over the internet for processing, and talk back to your kid. It will email you, as a parent, highlights of your youngster's conversations with the toy.
If Samsung's spying smart TVs creeped you out, this doll may be setting off alarm bells too – so we drilled into what's going on.
The Hello Barbie doll is developed by San Francisco startup ToyTalk, which says it has more than $31m in funding from Greylock Partners, Charles River Ventures, Khosla Ventures, True Ventures and First Round Capital, and others.
Its Wi-Fi-connected Barbie toy has a microphone, a speaker, a small embedded computer with a battery that lasts about an hour, and Wi-Fi hardware. When you press a button on her belt buckle, Barbie wakes up, asks a question, and turns on its microphone while the switch is held down.
The child's replies are recorded, encoded, and sent in an encrypted form to ToyTalk's servers, CEO Oren Jacob explained to The Register. The audio is processed by voice-recognition software, allowing ToyTalk's systems to figure out what was said and how best to reply.
The doll is loaded up with scripts to read, and one of these is selected depending on what the kid said. If the tyke shows an interest in a particular past-time or thing, the doll's backend software will know to talk about that – giving the kid the impression that chatty Barbie's a good, listening friend.
Crucially, the recorded audio of children's voices (and whatever else happens to be going on around them when they push the buckle button) is kept on ToyTalk's computers. This material is supposed to help Mattel and ToyTalk improve Barb's scripted replies. It's also good test data for developing the voice-recognition code.
Getting voice recognition to work for kids turns out to be a lot harder than for adults. Children use unstructured vocabulary and tenses a lot more than grownups, and the pitch of the voice is radically different.
The ToyTalk privacy policy page, dated last April well before Hello Barbie was revealed this week, states:
When users interact with ToyTalk, we may capture photographs or audio or video recordings (the "Recordings") of such interactions, depending upon the particular application being used.

We may use, transcribe and store such Recordings to provide and maintain the Service, to develop, test or improve speech recognition technology and artificial intelligence algorithms, and for other research and development or internal purposes.

We may make such Recordings available to the parent account holder and permit the parent account holder to share such Recordings with third parties.
By using Hello Barbie, parents agree to these terms. It's not clear how long the recordings stay on ToyTalk's systems. The doll is only at the prototype stage – just in time to be shown off at Toy Fair 2015 in New York – but is expected to be ready for Christmas, with a price tag in the area of $75. The privacy terms could be tweaked by that point, we note.
None of what your child says is used to play them adverts, Jacob stressed to us; parents can get a weekly or daily email from Barbie giving them the highlights of what their precious little snowflake has been saying to the doll, even the temper tantrums.
"If the child is old enough to play with Barbie then no matter what they say, mummy and daddy will have heard it before," Jacob said. According to those of us who are parents at Vulture West, kids bitch to their dolls about parents constantly, so be prepared.
The doll ships with an application to configure the toy to connect to a Wi-Fi network. The software also allows parents to specify topics of conversation that are off limits, and add in personal information – such as a pet's name – to personalize the doll.
Barbie has been around about for 59 years now, and the high-tech version is being pushed out fast as Mattel seeks to halt falling sales. It's not the only company doing so: IBM is getting in on the game.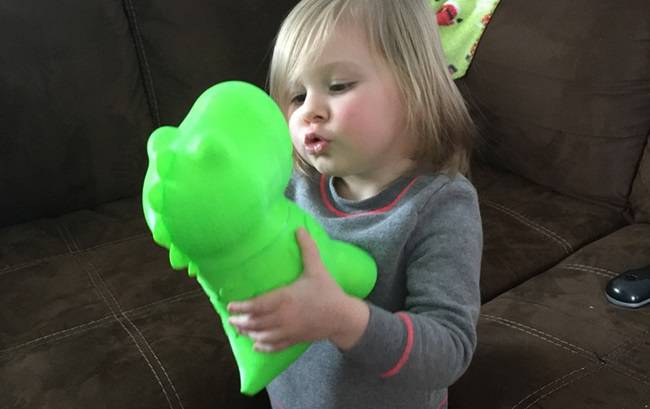 No, I don't want to play Jeopardy
Big Blue is working with Elemental Path to bring its IBM's Watson machine-learning software to a range of kid's toys. Splashing out $99 on Kickstarter will get you a cuddly green dinosaur that can communicate with Watson's voice-recognition service wirelessly.
The inventors hope the dino can be used to not only provide a digital companion, but also educate its owner with a series of learning modules. Someone's been reading Neal Stephenson's The Diamond Age, it seems. ®