Australia's TPG Telecom has increased its offer for internet service provider iiNet, leapfrogging a counter-bid by the M2 group to emerge as the preferred buyer.
TPG upped its offer by 11 per cent, to about AU$1.56bn or $9.55 a share, payable in cash or TPG stock. Rival suitor M2 Group is offering $9.67 per share, but iiNet's board have told (PDF) shareholders they should do the deal with TPG.
Here's their reasoning:
"The iiNet Board unanimously recommends that iiNet shareholders vote in favour of the Revised TPG Offer, in the absence of a superior proposal and subject to the Independent Expert concluding that the Revised TPG Offer is in the best interests of iiNet shareholders."
And here's the graphic the board is using to convince shareholders to do the deal.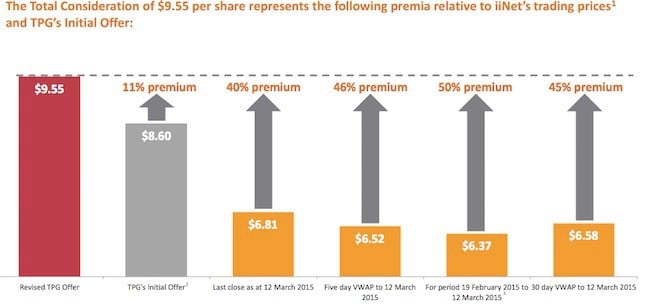 TL;DR – they're paying more!
A key part of the TPG offer is that the $9.95 per share includes a $0.75 special dividend. Australia's taxation arrangements for company dividends means accepting the deal will make good sense for investors, as they'll not only get cash for their scrip but a tax credit too.
The board's recommendation also states "TPG has communicated its intention to retain the iiNet brand, and accordingly, the high level of customer service that the iiNet brand is renowned for."
That's an important element, because iiNet has spent up big to build a premium brand, works with modem-makers on custom kit and has signalled it will innovate with home automation products . TPG's own marketing, and customer service, are rather more cheap and cheerful and its services more basic. While there's a certain sentimentality about preserving the iiNet, news TPG intends to do so will be welcome for investors in the latter company who can see that it does not intend to undermine the source of much of iiNet's value.
If investors approve the transaction, it should be done by August 2015. ®
The author is an iiNet customer.