This article is more than 1 year old
Moto fires BROADSIDE into the flagship phone's waterline with X Play and Style
You want actual Android value? Check this out
Hands On The traditional flagship Android smartphone concept, as offered for instance by Samsung, may be feeling a little wobblier today after Motorola shelled it fore and aft with its new, actual-value X handsets.
Apple is currently hoovering up 92 per cent of the profits to be made in the smartphone business, by some counts, and what's left goes to Chinese manufacturers buoyed by strong domestic demand.
Red ink pours out of Japan and Taiwan; Sony, HTC, and Samsung, are all seeing their big marketing budgets and lavish margin model under pressure. Lenovo's proposition with the Motos is simple: get what decent components you can in for half of the flagship price.
Two new top-range X models from the Lenovo-owned phone company offer stock Android, no frills, and a £200-£300 saving over flagship rivals from Samsung, Sony and HTC. The budget Moto G, so far the only Android phone worth buying in the sub-£200 category, was also refreshed, with waterproofing, a much better camera, and Moto Maker build-to-order customisation.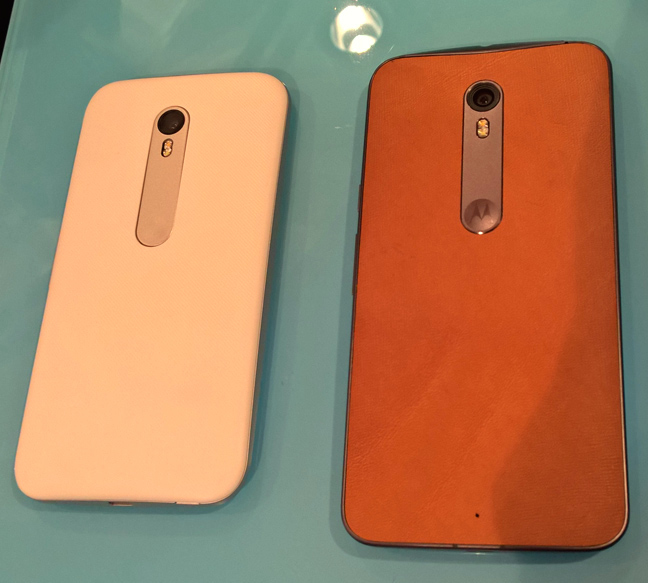 The two new Moto X models, the Moto X Style (£359 SIM free) and in particular the Moto X Play (£279) are aggressively priced: Motorola has stopped trying to match Samsung feature for feature. Instead it's focussing on everyday basics such as battery life (two days in the Play thanks to a 3,630mAh battery), rapid charging, and greatly improved 21MP main cameras. (The G receives the camera from the Nexus 6).
With the G getting bigger over successive iterations, the devices now bear a stronger family resemblance.
After the specs, some impressions:
from £359 SIM free: Moto X Style
5.7" Quad HD (1440 X 2560) display
21MP and 5MP cameras
3,000 mAh battery ("30 hours mixed use")
3G RAM
16/32/64GB of storage plus MicroSD up to 128GB
Snapdragon 808 6-core
(available September)
from £279 SIM free: Moto X Play
5.5" Full HD (1080 x 1920) display
21MP and 5MP cameras
3,3630 mAh battery ("48 hours mixed use")
2GB RAM
16/32GB of storage plus MicroSD up to 128GB
Snapdragon 615 8-core
(available August)
from £159 SIM free: Moto G (Third Generation)
13MP and 5MP cameras
2,470 mAh battery ("24 hours mixed use")
8/16GB of storage plus MicroSD up to 32GB
Snapdragon 510 4-core
IPX7 water resistance