As expected from its earlier warning shot, QLogic's first quarter fiscal 2016 results were pretty bad. Revenues of $113.4 million were 5 per cent lower than a year ago, with net income of $2.6 million being 57 per cent down on last year's Q1.
Within the revenue number, Advanced Connectivity Platforms (Fibre Channel and Ethernet) delivered $102.6 million compared to $104.7 million in the same quarter last year.
Prez-CEO Prasad Rampalli was upfront in his prepared statement: "We are disappointed with our first quarter financial performance. Our first quarter results were adversely impacted by lower than expected demand due to weakness in our traditional enterprise server and storage markets, and operational issues including an inventory build-up primarily at a major OEM customer that was not identified on a timely basis."
What is Rampalli doing to fix things? "We have taken actions to address these execution areas where we fell short and also plan to take actions over the next few months to reduce our operating costs by streamlining our business and prioritizing our investments." Sounds like the rumored layoffs might well be part of the mix. It also suggests the weakness in QLogic's traditional enterprise server and storage markets is not a short-term thing.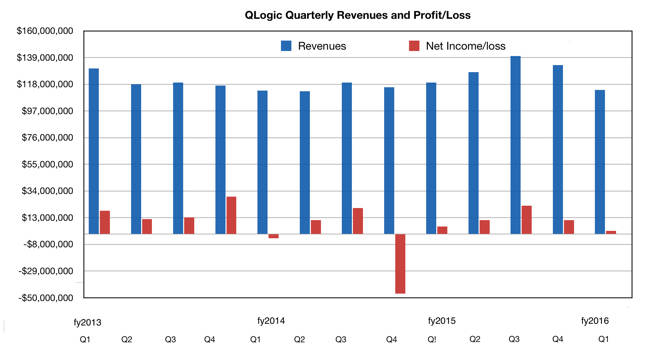 According to Stifel MD Aaron Rakers, QLogic was disappointed that demand for Grantley enterprise servers didn't materialize, which would have driven connectivity product sales. It thinks some of a hoped-for server demand uplift has been transformed into cloud deployments, where QLogic has less of a presence than in the enterprise data center market.
Rakers noted that there could be a $20 million reduction in Q's operating expenses for 2016 compared to this year. QLogic sees itself being well-positioned with 25/50/100GbitE products and hopes for double-digit 16Gbit/s Fibre Channel product growth, via Grantley server upgrades, this fiscal year.
But Rakers points out, "QLogic had expected Windows 2003 end-of-life to result in incremental server growth in the 3–4 per cent range, but many servers are moving to cloud and away from Tier-1 OEM rack/blade systems, where QLogic predominately has design wins." That sounds like a secular and not short-term change.
Things are going to get worse in the short-term. QLogic is seeing a $98 million to $106 million revenue range for its next quarter; $102 million at the mid-point, which would be 20 per cent less than a year ago. Q hopes this quarter represents the bottom of a revenue trough with Q3 showing pick-up signs.
There will need to be a hefty second half revenue rise for QLogic to be able to show any growth for its full year compared to fiscal 2015. With hyperconverged systems, using virtual SANs, set to squeeze enterprise storage array deployments on one hand and cloud storage/server deployments squeezing them from the other, QLogic's traditional enterprise server-storage connectivity product market prospects don't look great. ®