This article is more than 1 year old
NBN Co yet to make a single fibre to the node connection but is eyeing off G.fast
Trust us, says network-builder, we're ready to ramp up and our 2015 results prove it
nbnTM, the company building Australia's National Broadband Network (NBN), has released its results for FY 2015 and says it has met all of its targets.
The company's CEO Bill Morrow today said "the number of premises that can order an NBN service more than doubled from 553,000 premises to 1.2 million". Of those premises, 486,000 now have an NBN connection, up from 210,000.
Revenue has "more than doubled from AU$60 million to $161 million."
The company says it exited 2015 with the capability to connect 20,000 premises per week, up from 7,000 at the end of FY2014. Morrow also mentioned increased customer satisfaction, employee engagement, better relationships with retail service providers and more engagements with the entire telecommunications industry.
The CEO therefore declared 2015 "set the foundation" for the project and that "these results prove that with the right processes we can move from linear growth to exponential growth."
nbnTM needs exponential growth: the statement of expectations under which it operates require it to connect eight million premises "by 2020". That's 7.5 million premises in the next four years, or around 30,000 premises a week.
The connection technologies that will get the company there – hybrid fibre-coax (HFC) and fibre to the node (FTTN) – are yet to be used in anger for a single connection. Capex on both is accelerating.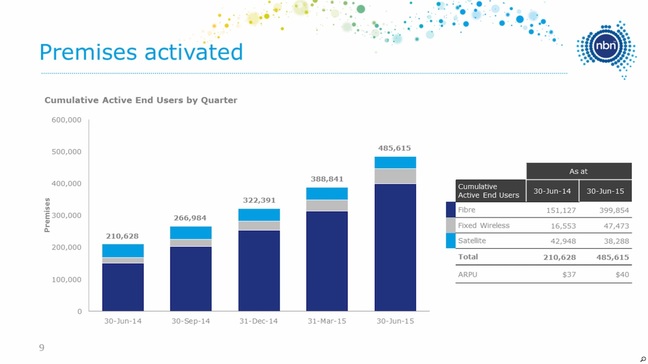 Current state of the NBN. Click here to embiggen
Intriguingly, the amount of data the network is carrying took off when Netflix arrived in Australia. As the graph below shows, since March 2015 demand for downloads has soared.
Who says there's nothing to watch on Netflix? Not nbnTM
Morrow also revealed that nbnTM has commenced tests of G.fast, a significant nugget of news because the company has hitherto talked about using vectored DSL for the fibre-to-the-node rollouts. G.fast can deliver substantially faster connections 500 megabits per second on short loops.
The company said it has "studied G.fast around the world" is conducting a trial and that it "is highly likely we will deploy G.fast" as "we see a degree of maturity around the world that will make good use of it in Australia."
During the announcement it was also stated that the imminent HFC build will uses DOCSIS 3.1 from the beginning, but that the technology may not be immediately available.
Morrow also said that community is looking more kindly on the project, largely as a result of the re-branding exercise that saw NBNCo become nbnTM. That effort has generated "an increase in intent to connect and customer sentiment," Morrow said.
Later today, nbnTM will reveal its new corporate plan. Vulture South operative Richard Chirgwin is at the event and will file the news as it happens. ®