Comment War could break out in EMC's investor ranks any day now as the standstill agreement between EMC's board and activist investor Elliott Management runs out this month.
Elliott wants the federation structure or status changed so that hidden investor value inside EMC can be unlocked for investors' benefit. This means the potential unravelling of EMC chairman and CEO Joe Tucci's carefully constructed organisation.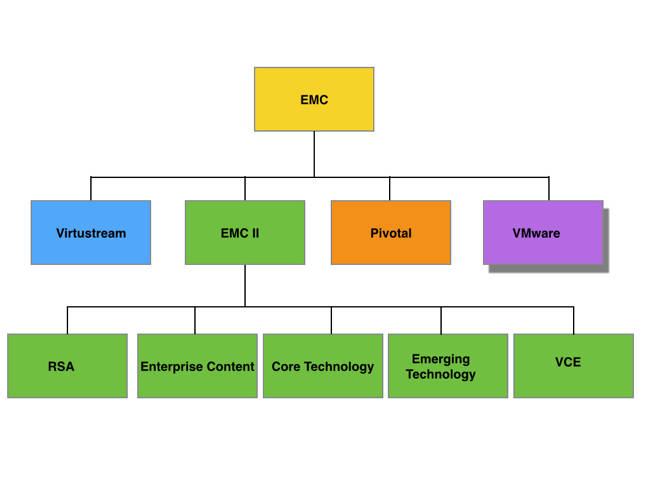 EMC Federation structure
His time as EMC head honcho is running out and his terrible dilemma is what to do to satisfy both Elliott and what he perceives to be the best interests of his Federation creation.
The Federation has four main component businesses, each run by its own CEO; Virtustream, EMC II (Information Infrastructure), Pivotal and VMware.
EMC part-IPO'd VMware and its shares are separately traded from EMC's and have performed better in recent months than EMC's own, hence the view from Elliott Management that EMC is performing less well than if its assets were deployed and organised differently.
Within EMC II there are two more businesses presented by EMC as being part of the Federation structure; the RSA security business and VCE's converged infrastructure operation. Enterprise Content is the Documentum and allied products.
Core Technology is the great collection of money-spinners; VMAX, VNX, Data Domain, etc. Emerging Technology has the future money-spinners, namely XtremIO, DSSD, ScaleIO and so forth. So far the revenue growth from these is not making up for the lower growth in the core tech' products.
We could take the view that VMware's valuation is so much better than EMC's because it is visible through having its shares separately traded, even though EMC owns 80 per cent of it. It's been suggested that this could be fixed by EMC buying in the part of VMware it doesn't own, or VMware buying EMC. Either way, one entity ends up owning both VMware and EMC.
Who's idea of value
Note please that this is a good thing mostly (if not only) from an investor's point of view. The value from a wider business sense of the constituents of the federation and the federation itself are identical. It is only the value from an investor point of view that matters for this discussion of the federation's structure and future.
Looking at it from an activist investor viewpoint what matters is the trading value of the shares in the relative short-term from a few months to two or three years.
They generally want to buy in when they perceive an under-valued stock, agitate and achieve business structure and strategy change, see the share price rise or cash be distributed to share holders through asset and even company sales, and then cash out and move on to the next target.
Their interests are not the same as those of the company's other stakeholders; staff, suppliers and customers.