This article is more than 1 year old
Huawei cooks own PCIe SSD: Flash IP in a flash
Micron NAND stores blocks of bits but the rest is all Huawei
Pics Chinese enterprise data centre IT supplier Huawei now makes its own PCIe flash cards, including the controller functionality.
Being shown round an enterprise product exhibition hall in Huawei's Shenzhen campus* we saw a PCIe flash card, the ES3000 v2, with a capacity of up to 3.2TB, and we were able to pick it up and look at it.
We were curious about whether Huawei made the card itself or resold some third-party supplier's product, and what that told us about Huawei's attitude towards developing storage products.
It is one of the world's main telecommunications equipment suppliers with a huge amount of patented in-house technology. If it brings that level of expertise and long-term commitment to bear on storage hardware and software products, then it could become a seriously large player.
We also saw servers in the hall that it had developed itself, using Intel processors, of course, which demonstrated a level of data centre hardware development expertise.
Back to the SSD; it's not a full-size card and looks like an in-house product and not a resold product. The top was mostly a great big heat-sink. Here's a view looking down at it: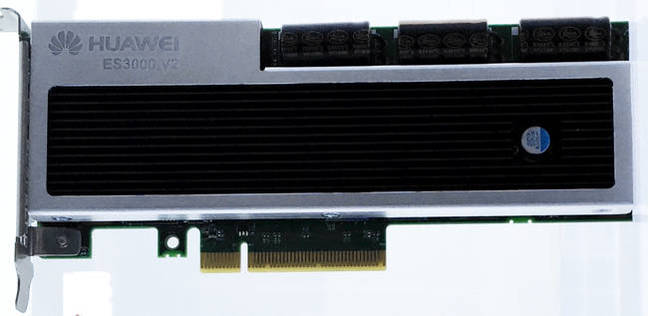 Who said the iPhone camera was good? ES3000 v2 PCIe SSD.
Turning the card over revealed a densely packed base board: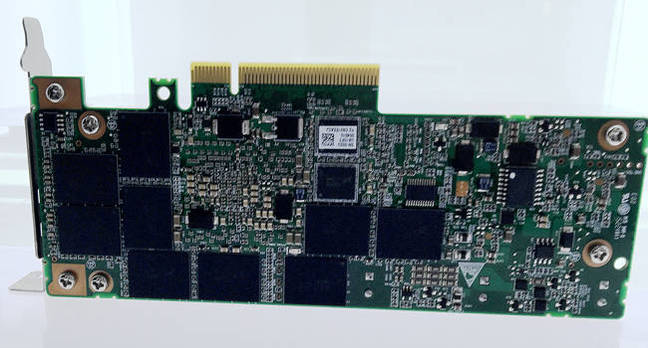 ES3000's rear surface. Whose flash chips are used?
We counted nine potential flash chips but couldn't make out the logo with our naked eyes.
By using an iPhone to take a picture and then zooming in on it we clearly saw a Micron logo: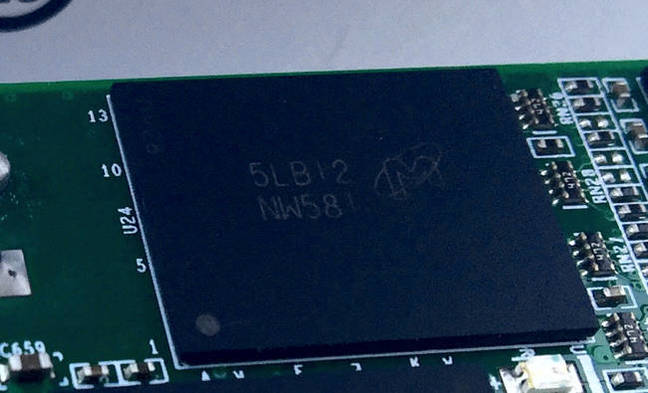 Micron logo on Huawei ES3000 v2 PCIe flash card.
We dug around Huawei's website and located a PDF file that provided a product spec table.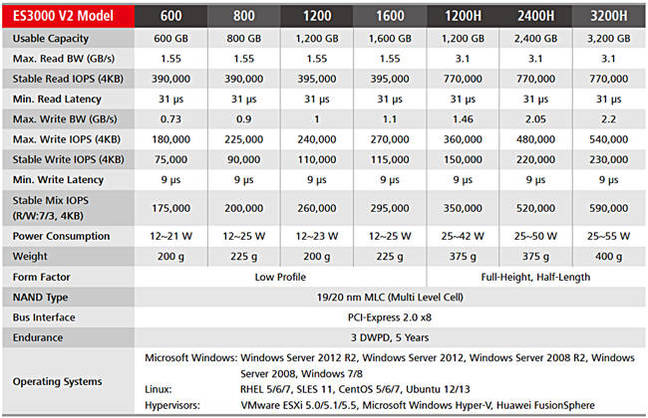 ES3000 v2 specifications
It uses Micron 19/20nm MLC NAND and has 600GB, 800GB, 1.2TB, 1.6TB, 2.4TB and 3.2 TB capacity points. Disappointingly, it is a PCIe gen 2 x8 and doesn't appear to have an NVMe driver. Nevertheless the read and write IOPS and bandwidth numbers are impressive.
We understand that Huawei has provided its own controller for the card.
For now it's apparent that Huawei is serious about developing its own flash IP and would seem to have a developing relationship with Micron that could potentially include secure chip supplies from Micron's foundries, and joint chip-controller development in some fashion. ®