This article is more than 1 year old
China 'evacuates' 9,000 around monster radio 'scope
You're an electromagnetic menace, here's an eviction notice
China will "evacuate" 9,110 residents living within a five-kilometre radius of its new "Five-hundred-meter Aperture Spherical Telescope" (FAST), in order to create "a sound electromagnetic wave environment".
The monster radio 'scope - located in the south-western province of Guizhou - is due for completion in September. The displaced citizens will each receive 12,000 yuan (around £1,300), and "each involved ethnic minority household with housing difficulties will get a 10,000 yuan (about £1,100) subsidy from the provincial ethnic and religious committee", Xinhua news agency explains.
Once completed, FAST will dwarf Puerto Rico's Arecibo Observatory, the current radio scope diameter world record holder at 300m. The operational telescope's "4,500 mostly triangular panels with sides measuring 11 meters" will direct signals towards a central receiver dome.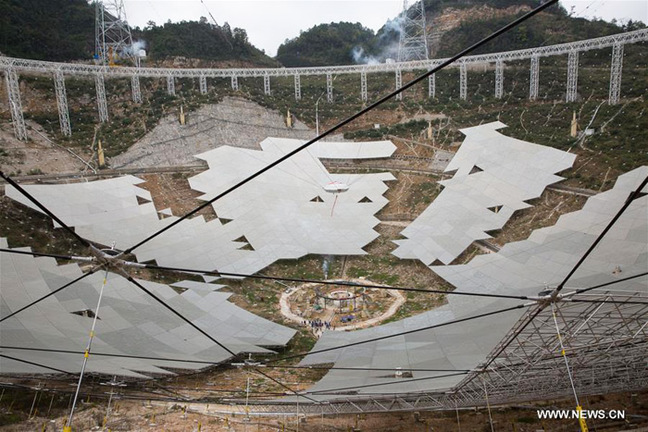 FAST's vast bowl. Pic: Xinhua
According to China Daily, FAST's design is unique in that "4,350 panels have been designed to move up and down, which enables the whole hemisphere to rotate or to reshape".
Li Di, a scientist from the National Astronomical Observatories, said: "With a larger signal receiving area and more flexibility, FAST will be able to scan two times more sky area than Arecibo, with three to five times higher sensitivity."
To give an idea of the scale of the beast, Li whipped out his improbable units calculator and declared that "if you fill it with wine, every one of the world's seven billion people could get a share of about five bottles".
Scientists hope that FAST's sensitivity will allow the discovery of "previously unknown pulsars in the Milky Way and even in other more distant galaxies". ®