Cunning scam: Mobe app stalks victims then emails booby-trapped bogus speeding tickets
Don't trust fines emailed from cops
---
Here's a smart scam that's cropped up on the US East Coast. It appears people have installed a free smartphone app – quite possibly a traffic monitoring tool – that keeps an eye on their whereabouts, and then emails them fake speeding tickets.
Victims are tricked into thinking the messages are legit and have come from the cops. The emails include real information: people's names, when and where they've been driving, and their supposed excessive speeds. This fools marks into taking the messages seriously.
The emails threaten a cash fine and direct the victim to click on an "infraction statement," a download that attempts to install malware on their PC.
Police in Pennsylvania say that the notices are particularly convincing because they are based on actual GPS coordinates pulled from the target's phone while they were driving.
The cops believe that the person behind the scam was able to pull the GPS data from a smartphone app and then use it to create notices from when the target actually was driving, and speeding, in that area.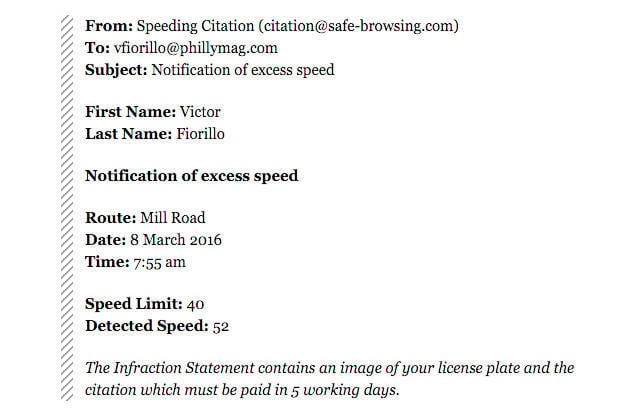 An example of the phishing emails, obtained by Phillymag.com from investigators
In other words, someone is able to create fake speeding tickets based on when the target actually was driving over the speed limit. Armed with that GPS information, the attacker is able to create a notice that is far more likely to be taken seriously and, ultimately, will lead the victim to infect themselves with the malware.
Needless to say, those living in the area should not follow links in suspicious or unsolicited emails, even those claiming to be from law enforcement.
Police in Tredyffrin Township, the area where the GPS data is believed to be collected, say they do not use speeding cameras to track drivers and tickets are only issued if an officer catches a driver in person. ®