This article is more than 1 year old
Cloudian clobbers car drivers with targeted ads
Smart digital road-side ad signage
Cloudian object storage is being used to target Japanese drivers with focussed ads as they drive past a digital billboard.
Dentsu, a Japanese advertising supplier, has set up an experimental system on a road in the Tokyo area where road gantry-located video cameras capture images of vehicles and drivers. It features deep learning analysis – AI for recognition with automatic feature extraction – of traffic patterns and volume, automatic vehicle recognition, make and model of the vehicle, and characteristics of the driver such as age and gender.
This data is then used to select an advert to display on the digital billboard, with less than one second needed from the image being captured to the ad being displayed. A Dentsu client will buy time on the LED billboard and tell Dentsu to target certain types of vehicle and driver.
We can imagine a hybrid vehicle supplier could target diesel vehicles with ads promoting pollution control, and petrol vehicles with better fuel economy messages. An eco-friendly product could be displayed to drivers of hybrid/electric vehicles.
There is a complex IT infrastructure involved, with Quanta Cloud Technology, x86 servers, intelcaffe deep learning software, Cloudian object storage, Amazon Web Services and SmartInsight Corporation.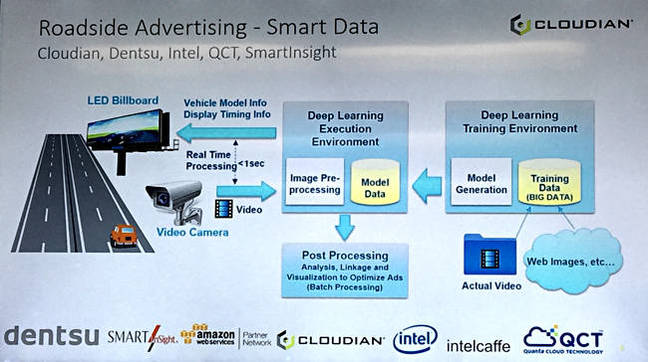 Cloudian targeted roadside advertising scheme
Michael Tso, CEO and cofounder of Cloudian, said: "This will become the world's first deep learning-enabled roadside advertising system with vehicle-specific, real-time targeting. One major outcome of the project is demonstrating deep learning algorithms utilizing HyperStore's sophisticated metadata to realize real-time recognition and classification. Big data that otherwise might have remained stagnant can be automatically turned into smart data, and highly efficient analysis can be provided."
The project will shift from proof of concept into practical use within the next six to 12 months, starting with practical application in Tokyo, and then potential deployment outside Japan.
Cloudian provided training data to the HyperStore software, which consisted of a large volume of vehicle information, images and video of car models, plus vehicle attribute inputs. This information was classified and will be tested to accurately identify vehicle models on Tokyo roadways.
HyperStore will also capture detailed, real-time data related to traffic volume at various times in the day, and this data can be made available to public institutions such as the Ministry of Land, Infrastructure and Tourism, local municipalities in Japan, and to enterprises for retail location planning.
Targeted ads are being enthused over by ad agencies and their clients as ads are shown to consumers more likely to be interested in the content and pre-disposed to react to the message. They are popular on the web but rare in the physical advertising world.
Ad capacity on a digital billboard showing targeted ads to passing drivers could be sold at higher prices than standard billboard ads. Privacy concerns will be assuaged by the system not storing camera images once they have been analyzed. Also the system doesn't capture licence plates or other identifiable vehicle information.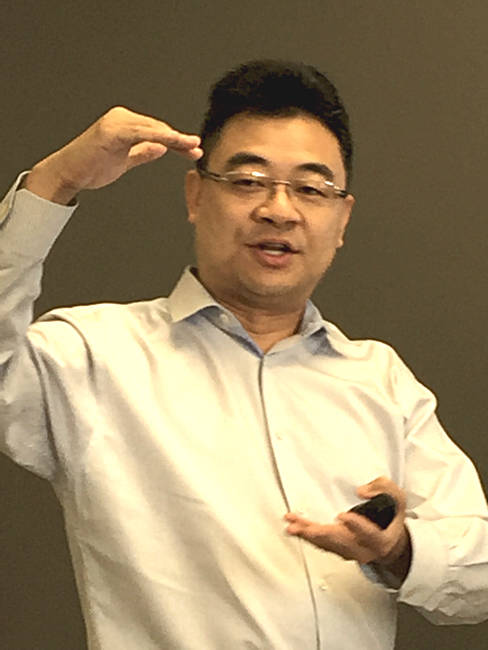 Michael Tso
The possibilities are obvious. Tso said: "We look forward to deepening our partnerships to expand deep learning into transformational use cases in retail, healthcare, genomics, and IoT."
Facial recognition could lead to ads targeted at individual consumers in railway stations and other transit interchanges, shopping malls and other sites. Big data technology could be used to target young or old, male or female consumers with product and service ads geared to them.
The Cloudian software has the capacity and responsiveness needed for this real-time ad selection application. Whether we consumers will like being bombarded with individually targeted ads is another matter entirely.
Listen to Ichiro T Jinnai, director, Out Of Home Media Service Division, Dentsu, Inc: "In today's fast-moving advertising world ... consumers expect tailored experiences and uniquely relevant messages."
Do we really, in this world of ad blocking software? ®