Gartner's latest all-flash array Magic Quadrant contains expected news, a few surprises and a demotion that has prompted a public response from Violin Memory.
The report, Gartner's 2016 Solid State Arrays Magic Quadrant and Critical Capabilities" report, provides a snapshot of vendor positions whilst the Critical Capabilities report evaluates the suppliers more thoroughly.
In the MQ Leaders' quadrant, EMC and Pure Storage are the boss players, with IBM, HPE and NetApp trailing them; NetApp has made a significant move from being a borderline Challenger/Niche player last year.
The main changes are:
NetApp bounds into the Leaders' quadrant
HDS springs into view, for the first time, in the Challengers' quadrant
Solidfire disappears the Visionaries' quadrant, having been bought by NetApp
Tintri enters for the first time, in the Visionaries' quadrant
Nimbus Data disappears from the Niche players
XIO Technologies appears in the Niche players
Cisco disappears from the Niche players
Violin Memory loses significant position in the Niche players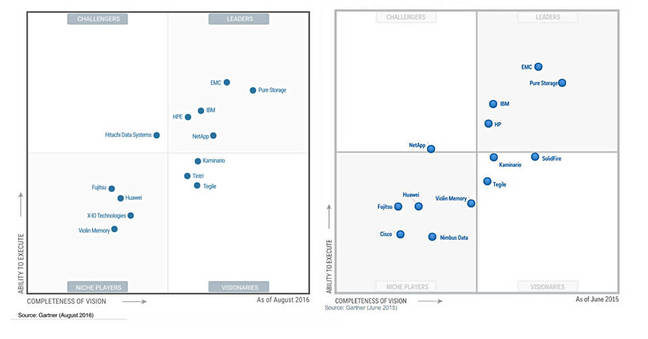 Gartner 2015 (right) and 2016 (left) SSA MQs
Violin has lost position on both axes of its quadrant; ability to execute and completeness of vision. It has issued a statement about this, saying Violin Memory is choosing to address this report by:
Staying focused on making the best products and solutions possible
Continuing to gain customer confidence and traction, as seen with more than 60 of the largest enterprises in the world including five Fortune 100's choosing Violin's Flash Storage Platform
Restoring growth to top line revenue
It has issued an open letter here about Gartner's latest MQ, in which it says:
Over the past two years, we have divested a PCIe business, stopped manufacturing our historical product line, and have introduced a completely new, fully integrated hardware and software all flash storage solution. As a result, Violin is a different company. The new product line is doing very well, with sales growing from $1m to $17m in the first year with more than 60 of the largest enterprises in the world including 5 Fortune 100's.

As a public company, Violin's financial performance is fully transparent. Violin finds itself challenged by current Wall Street perspectives and quarterly expectations and Violin believes the Gartner report is a reflection of this current state as a public turnaround, versus the value proposition we have delivered and will continue to our customers. ...
It finishes with this: "To learn more about Violin's Visionary status, industry leading product performance, and customer enabling capabilities, please join us for a major product announcement scheduled for September 14th."
Pencil 14 September in your calendars for big Violin product news. ®