This article is more than 1 year old
Community vid reveals demos of vSphere-on-AWS cloud concoction
Right-click to vMotion VMs between on-prem and AWS
VMware's revealed some demos of its planned hybrid cloud service running inside Amazon Web Services.
VMware announced its planned partnership with AWS last October, promising a cloudy, elastic version of vSphere. And in the video below, posted to the vBrown Bag community video channel, it looks to have delivered.
VMware staffers Adam Osterholt, Paul Gifford and Eric Hardcastle are guests on the video and explain that the service is well and truly in development with "summer 2017" and "mid-year" advanced as launch dates. They explain the demos mix indicative operations with some stuff that's pretty close to done.
Whenever this service arrives, you'll get the chance to use the vSphere Web Client to manage hosts both on-premises and in AWS. There will also be an API for provisioning, scaling clusters and billing. A vCenter plugin will also be made available.
The service is going to evolve fast: the VMware staffers say the company is planning to add features on the AWS side about every ninety days. That's rather faster than the vSphere release cycle, which currently goes about 18 months between major releases and six months between minor updates.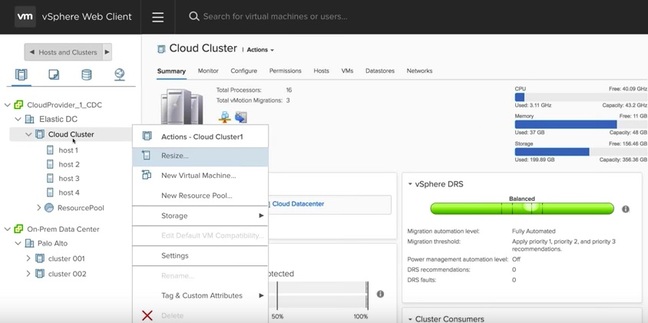 The vSphere Web Client spanning on-prem and AWS resources. Click to embiggen
The AWS side of the service will run vSphere 6.5, but VMware will commit to N-1 compatibility meaning those using vSphere 6.0 will be able to link to the AWS service. Those on earlier versions can forget it. The VMware people in the video suggest on-premises users might need to get used to faster upgrade cadences.
Moving VMs between AWS and your premises will be require all the skill of a right-click on your mouse. It will be smooth and non-disruptive if you run NSX in both locations, and largely painless if you use the NSX Edge Appliance in your own bit barn. VMware wants you to have as much of its stack in both locations as possible, so that configurations are nicely mirrored for ease of operations. Workarounds will be possible – think shutting down a VM before vMotion – but the service will work best if you can clone you on-premises rig in the AWS cloud.
The video also explains that there will be "t-shirt sizing" for pre-defined AWS clusters, but that customisation will also be possible. So will elasticity: the VMware people mentioned in-AWS-clusters automatically re-sizing to cope with increased workloads by co-opting more cloudy servers. There's also mention of by-the-hour pricing, but with reserved instances on one-or-three-year contracts being the main consumption mode.
To drive the service, you'll log in with VMware credentials. VMware will bill you and service you because this will be managed service: you'll never talk to an AWS person for support.
The video also mentions rollout plans: VMware will first deploy to AWS' US West 2 and East 1 regions, then to EMEA (Ireland or UK, destination TBD).
Further deployments will only be made once demand makes it sensible to do so, but VMware hopes to one day have its service in every AWS region.
There's plenty more deep detail in the video, which clocks in at over an hour. Happy watching, vVultures! ®