Pivot3: Acuity hyper-converged with NVMe flash and QoS has landed
High priority apps get first dibbs at fast SSD storage
---
Hyper-converged infrastructure supplier Pivot3 is adding an NVMe flash tier with app-priority-based quality of service (QOS).
The Acuity software product can, Pivot3 said, enable multi-priority, mixed-use workloads to run in a hyper-converged environment. The support of NVMe SSDs, with their microsecond latency and the SLAs, means only high-priority apps with meaty performance and low latency needs, get to enjoy the NVMe SSDs.
Pivot3 claimed its NVMe SSDs are 450 per cent faster than SATA SSDs, 119 per cent faster than SAS ones and its Acuity HCI X-Series can deliver up to six times the performance of conventional HCI solutions.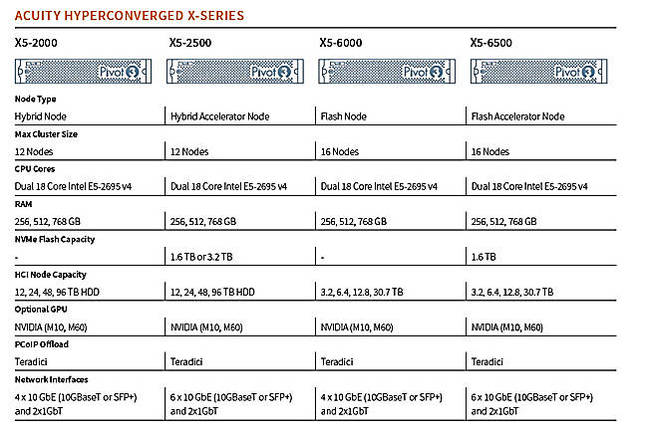 The Acuity policy scheduler can be used to organise performance and data protection policy changes on cyclical business processes that change app requirements, the vendor added.
The software includes erasure coding-based protection, snapshot and clones, application-integrated data protection, data reduction, and integrations with VMware vSphere and VMware vCenter.
The company reckoned it has 2,400-plus customers in 54 countries - it passed 2,200 in February - and 18,000 hyperconverged deployments. Back in November 2016 there were 2,000+ customers.
Download an Acuity datasheet here. ®
Similar topics
Broader topics