British Airways' website is displaying a penis carved into a beautiful sandy beach – the same inappropriate erection that was standing over bing.com yesterday.
The offending phallus went viral around the internet yesterday as giggling folk spotted the offending cock standing proudly on Bing, which we have heard is some kind of search engine dedicated to elderly Internet Explorer users.
This morning one of Vulture Central's eagle-eyed backroom gremlins was slacking off and planning his holidays fearlessly inspecting the internet for further evidence of sandy penis mishaps.
Lo and behold, he discovered yesterday's naughty knob, proudly pointing to British Airways' low-cost flight deals.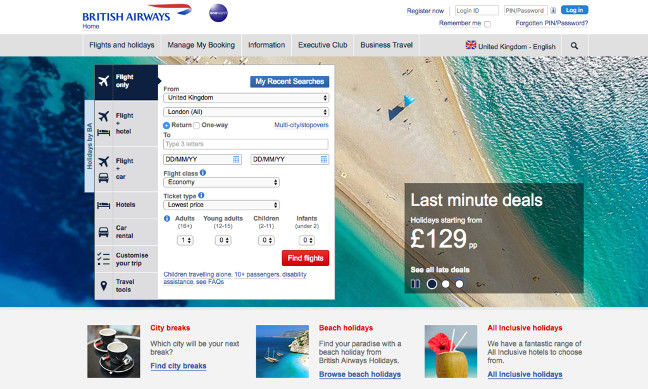 THAT sand penis on BA.com. Just to the left of the L in "Last minute deals" (click to enlarge)
We rang up BA and, after some initial confusion and explaining that, for once, we weren't actually calling them cocks, a press officer agreed that they were indeed displaying an outstanding member.
The airline rose to the occasion and told us: "We were so distracted by the beautiful Croatian coastline and last minute package holiday deals from £129 per person that we didn't spot the naughty artwork hidden in the photograph. We're sorry and have now swapped the image for that of another picture postcard destination we fly to."
Our crack penis image analysis team is busily hunting down the source of the inappropriate erection and any other places it might have popped up. So far we know that the picture is a stock image of Croatia's Zlatni Rat beach and we are trying to contact the photographer now.
If you have further evidence of the famous sandy John Thomas' adventures, get into the comments section and let us know. ®