Virgin Media customers complain of outages across UK
Not looking good for cheesed off customers
Updated Virgin Media is seemingly suffering a series of outages accross the country, with aggrieved customers using alternate methods to air their ire at the telco.
A number of Virgin's customers have been in contact with us over the past day or so to complain about not receiving the service they have paid for.
"All I could get from their customer service was that it was a major outage affecting area 3, which is South London," Reg reader Barry told us. "I can't believe they have not admitted the scale of the problem or offered any apologies never mind compensation on their website."
A quick glance at Twitter showed more than the expected volume of outage complaints, with affected areas stretching across the country.
Another #hitandmiss day for internet yet again @virginmedia

— samantha mitchell (@cleopatra2k) August 22, 2017
@virginmedia I have no TV or Broadband in the TW15 area, do you have an update on this ?

— Adam Bignell (@adambignell89) August 22, 2017
@virginmedia our broadband isn't working. Is there an issue in the Marchmont, Edinburgh area?

— Sophie France (@SophieFrance1) August 22, 2017
Meanwhile, the ever-reliable Down Detector website's heat map of outage reports from across the country made pretty ugly viewing for Virgin employees.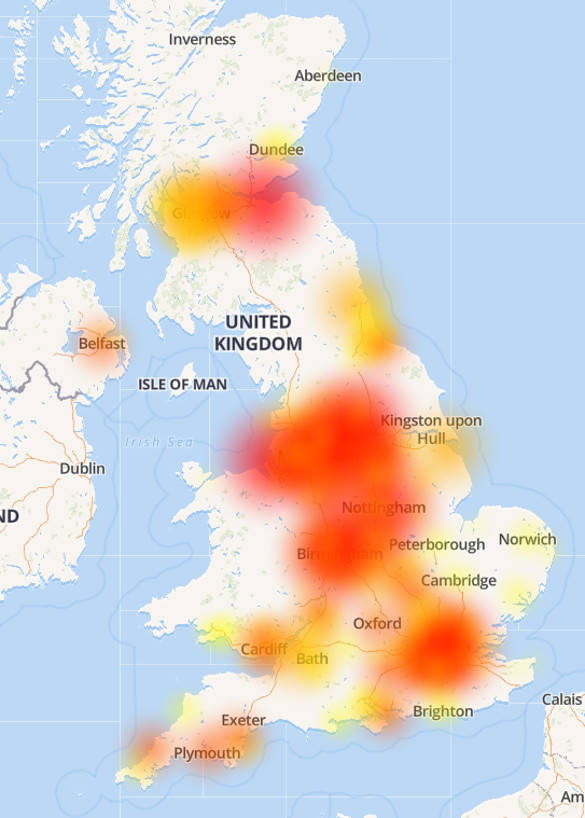 A heatmap of reported Virgin Media outages, from Down Detector. Red = more reports in a particular area
We have asked Virgin Media to comment on the state of its services and will update this article when they respond. ®
Update
A Virgin spokesman told us: "There are no widespread outages on our cable network. Virgin Media customers who might be experiencing problems specific to their area can check their network status here: https://my.virginmedia.com/faults/service-status"
That's right: there are no outages. All those people posting on Twitter about outages and contacting El Reg about them are clearly mistaken. ¯\_(ツ)_/¯