This article is more than 1 year old
User demanded PC be moved to move to a sunny desk – because it needed Windows
Desktop team cleans up mess created by developers, and doctors confused by disks
On-Call Welcome agin to On-Call, The Register's weekly column in which we share readers' stories of being asked to achieve the improbable, by people who are impossible.
This week, meet "Richard", who wrote to share a story from his time working at a healthcare provider at which he "received a call from someone who was demanding that her PC be relocated to the other side of her office.
Richard wasn't keen on that idea, because the user's office was on the ground floor and would put the PC within easy reach of several windows. So close to those windows that Richard thought "it would have been easy to do a smash and grab raid and pinch the PC." He therefore recommended against the move.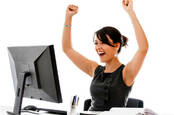 User thanked IT department for fast new server, but it had never left its box
READ MORE
But the user was insistent, so Richard inquired why she needed to make the move.
"David from Software Development has instructed that I must speak to the Desktop Team and get my PC moved," the user replied. "My new programme won't run properly without it."
Software won't run without the PC shifting desks? That was odd. So Richard and his colleagues contacted David to ask just what he'd told the user.
David's response, after a bit of face-palming, invocation of deities and the like was that he had told the user their PC needed an upgrade.
Which still made no sense, so Richard asked for further clarification.
"She's using the new Clinical Administration Package," David explained. "And I explained her PC needs to run in a Windows environment."
At least the PC wasn't fitted with a "wobbler", as were many others in Richard's workplace.
Wobblers are mercury switches that, if a PC is picked up or jostled, trigger a 110db siren to deter thieves from making off with the machine and/or alert others to their nefarious activities.
"Unfortunately," Richard told us, "over time the keys to disable these devices became lost, and so moving these machines became a game of Russian Roulette with your eardrums."
Which became relevant one day when a bunch of junior doctors destroyed several CD-ROMs by putting them into 5.25in floppy drives. And not just any CD-ROMs, but mega-expensive medical libraries.
Richard was therefore tasked with extracting the disks from the disk drive, so unplugged the PC, picked it up and quickly heard the telltale signs of the siren accelerating to eardrum-ramming speed.
Cue a frantic effort to get the PC plugged in an on the level.
Of course nobody knew where the wobbler's key had been placed, leaving Richard to open a PC – which required eight screws to be removed – and then remove the floppy disk to extract the CD-ROMs, all without setting off the alarm.
"Having removed and dismantled the drive, I recovered the (undamaged, as it turned out) CD's and returned them to the librarian with a fairly brusque comment about ensuring that they did not repeat the event," Richard told us. He also dispensed some advice to the effect that surely medical professionals, of all people, should know that just because something fits in a cavity that doesn't mean it belongs there!
Have any of your users had epic misunderstandings about what they're being asked to do? If so, write to On-Call and there's a decent chance you'll appear in this very slot on a future Friday. If you've written to On-Call and wonder if you'll appear, we're working on Christmas week omnibus editions already and they'll feature a few stories each day. ®