Verizon whips out Big Johnson to lure FCC into axing US states' net neutrality, privacy rules
'Light touch' must be enforced with a heavy hand, says telco
Verizon is leaning on America's broadband watchdog to stomp out any hope of state governments rolling out their own rules on net neutrality, privacy protections, and other internet regulations.
The telecoms giant this month wrote to the FCC urging the communications regulator to overrule various attempts by US states to institute their own regulations on how phone carriers and ISPs operate their networks and collect and share customers' personal information.
Citing the FCC's earlier decision to scrap its own privacy protection rules for citizens, Verizon suggested the commission has the power to overrule state laws and lightly oversee American providers at a federal level.
In other words, screw individual states, clearly the FCC has the power to let Verizon have its own way, as it sees fit, over all of its subscribers nationwide. Otherwise, those meddling bastards in city hall will ruin all of Verizon's amazing business schemes, it was claimed.
"Unfortunately, even as Verizon and other providers seek to develop a reasonable and sustainable federal framework to protect the open internet, some supporters of stringent regulation of ISPs are now looking to states and localities to frustrate these achievements," Verizon legal bigwig William Johnson wrote in his letter to the FCC, seemingly playing the victim card.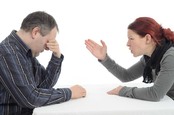 The new FCC privacy rules are here, and nobody is happy
READ MORE
"State and local laws governing broadband internet access service pose a real and significant threat to restoring a light-touch, uniform regulatory framework for broadband service."
The filing references how, shortly after the FCC passed its privacy rules, a number of states began the process of instituting their own local regulations to protect customers from having their personal details and browsing habits sold off by their ISPs to the highest bidder.
Now, Verizon wants the FCC to step and, ironically, force all state and local governments to adhere to a "light touch" approach.
"Allowing every state and locality to chart its own course for regulating broadband is a recipe for disaster," Johnson argued.
"It would impose localized and likely inconsistent burdens on an inherently interstate service, would drive up costs, and would frustrate federal efforts to encourage investment and deployment by restoring the free market that long characterized Internet access service."
The filing comes as the FCC is working to finalize its plan under chairman Ajit Pai to gut Tom Wheeler's net neutrality provisions, and allow ISPs greater control over how they can bill and tier internet access with rules that are likely to come up for vote in the coming weeks. ®