Airbus warns it could quit A380 production
Needs to make six to eight a year, predicts it can get back to 25 a year once airlines wake up
Airbus has reported its most prolific year to date in terms of deliveries, but also warned that it needs a new buyer of its flagship A380 if it is to continue production.
Speaking at its annual "Orders and Deliveries" event yesterday, the plane-maker said it delivered 718 passenger craft last year, four more than its previous best. 558 of those were members of the A320 family, and 181 were the updated "neo" models. 67 A330s rolled off the production line, as did 78 A350 XWBs and 15 A380s.
But the latter plane is in peril: Airbus chief operating officer for customers said the company needs a new buyer and that negotiations continue with Emirates, already the type's biggest buyer.
"We are still talking to Emirates and quite honestly they are probably the only one in the marketplace who can take a minimum of six A380s a year for a period of eight to 10 years," he told the event. "If we can't work out a deal with Emirates I think there is no choice but to shut down the program."
But Leahy also contradicted himself, citing global traffic growth as making larger planes a necessity for airports at major destinations like London, Frankfurt, Paris, Los Angeles and New York that will experience more passenger demand but can't increase capacity. Leahy said he expects a resurgence in A380 sales to cater to such destinations, even predicting a possible return to a production rate of 25 new planes each year. Emirates, meanwhile, has not signalled it doesn't want more A380s, but has surprised Airbus by conducting negotiations for rather longer than expected.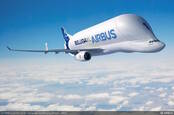 Airbus to build plane that's even uglier than the A380
READ MORE
High-capacity flights between big hubs was always Airbus' plan for the A380. Rivals took a different tack with medium-sized planes that are cheaper to operate and therefore suitable for flights between less populous and/or popular destinations. Airbus now has an additional horse in that race, as its single-aisle A321 now has trans-Atlantic capacity and can fill a medium-to-long haul niche between Europe and the eastern United States.
Good times lie ahead for the whole A320 family, executive said, as problems with next-generation engines for the A320 have been sorted out. As engine-makers start to increase volume, sales of the A320 neo should also rise.
Airbus execs also played down the need for new planes such as a larger variant of the A350 to provide craft with capacity to match Boeing's forthcoming 777x or a cheaper-to-operate A380 alternative.
But one new plane the company will fly this year is its new custom freighter, the first of which made it out of the factory last week. Airbus plans a fleet of six of the A330 mutations to carry components to its factories. ®