The "other" X86 mill-maker, AMD, has unveiled its efforts to position its Zen architecture kit as an embedded solution for networking, storage, edge and industrial devices: a brace of Epyc and Ryzen processors.
The semiconductor firm is aiming Epyc 3000 at networking, storage and edge computing devices and the Ryzen V1000 at medical imaging, industrial systems, digital gaming and thin clients. Both are embedded systems.
There are four pairs of Epyc products, each with 4, 8, 12 or 16 cores, and 1 or 2 threads per core: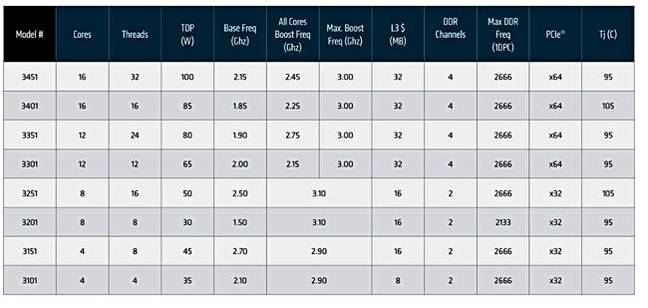 Click to enlarge the chart
AMD said the Epyc 3000 has up to 2.7X more performance/$ than the competition, citing a Xeon D 1540 and not one of the newer (Skylake) Ds.
The Epyc 3000 also has twice the connectivity, with up to 64 PCI Express high speed I/O lanes, 8 x 10 GbitE, 16 SATA, and – like Epyc's server-class chips – up to 4 memory channels per CPU. The processors also boast up to 32MB shared L3 cache. It compares it to a Xeon D 1587 with 32 PCIe lanes, 4 x 10GbitE, 6 SATA, 2 memory channels.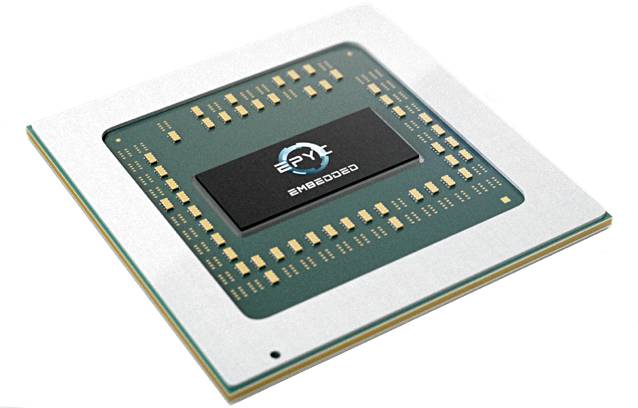 Epyc 3000
The newer Xeon D-2100 supports 32 PCIe lanes, up to 4 x 10GbitE ports, and four memory channels.
The Ryzen V1000 features an Accelerated Processing Unit (APU) coupling Zen CPUs and Vega GPUs on one die, offering up to four CPU cores/eight threads and up to 11 GPU compute units to achieve processing throughput as high as 3.6 TFLOPS.

Ryzen V1000 model matrix - click to embiggen
The Ryzen SoCs have up to four cores / eight threads with up to 2MB of shared L2 cache plus 4MB of shared L3.
AMD claims the V1000 provides space and power savings and performance benefits over Intel competition. For example:
Up to 2X uplift in performance over previous AMD generations,
Up to 3X more GPU performance than the competition (AMD V1807B vs Intel Core i7-7700HQ).
Up to 46 per cent more multi-threaded performance than the competition (Intel Core i3 -7100U),
Up to 26 per cent smaller footprint than the competition (Intel i7-7700HQ package size in FCBGA1440) for optimized board design.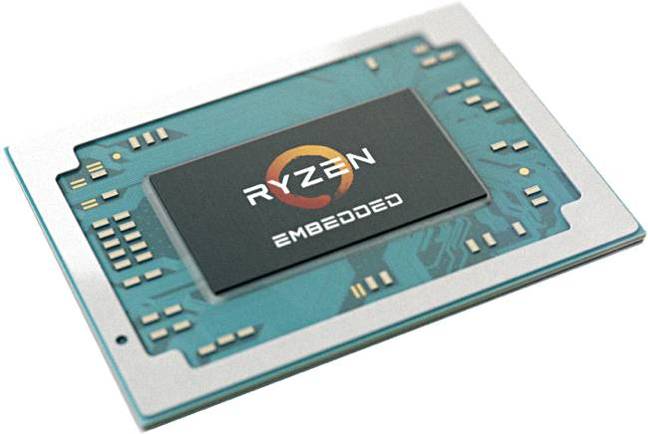 Ryzen V1000
The V1000 supports up to 16 PCIe lanes, dual 10 GbitE, up to four USB 3.1/USB-C interconnects, with additional USB, SATA and NVMe support. Graphically it can drive up to four independent displays running in 4K, with the ability to support 5K graphics, including support for H.265 decode and encode, and VP9 decode.
Supporting RyzV1000 partners include Arrow Electronics Intelligent Systems, Esaote, QTechnology, Quixant, Sintrones, SMACH Z and others. AMD is promising Epyc 3000 and Ryzen V1000 support for 10 years.
Get an Epyc 3000 product brief here (PDF) and a Ryzen V1000 brief here (PDF). ®
Similar topics