The second generation of a deciwatt gravity-powered lamp designed by the British industrial designers behind the Psion computer keyboard was launched today.
Few innovations we cover can claim to save lives, but this just might be one of them. The $5 Gravity Light, designed by London's Therefore Inc, offers the world's poorest a clean alternative to burning kerosene or biomass for lighting or radios.
The clever bit is a winch that unwinds incredibly slowly, but steadily enough to provide a low but usable voltage. The lamp was first featured here in 2012.
The second generation adds solar power and a rechargeable battery. The latter may be surprising – co-designer Jim Reeves said short-lived and costly rechargeable batteries were far from ideal. But things change, and the ability to store the energy is useful.
The Nowlight designers have claimed the product is hugely more efficient than any other hand-crank power generator on the market: one minute of pulling generates one hour of light at 25lm. The lamp has five brightness levels and can power USB devices at 5V/2A.
Therefore's co-founder Jim Fullalove told us the world's leading battery optimisers had been involved, opting for a a LFP (lithium iron phosphate cell) with 3200mAh capacity or 10Whr. Choosing one wasn't easy.
"The stress that we put the batteries through is going to mean that we need 5-7 years of life from a single power cell," said Fullalove.
The team also received a Research UK grant for biomechanics. "The design brief is really to capture that human energy input, which is between 20W to 30W depending on how hard you pull, across a dynamo. The battery, currently used in cars, still costs $3 to $4 but is expected to come down in price.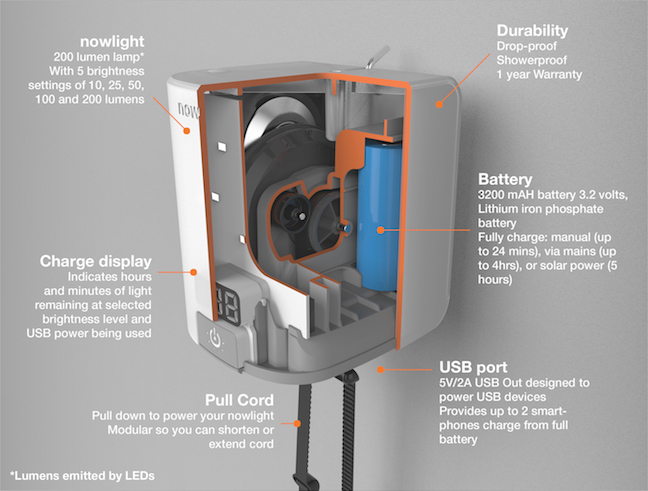 The team has partnered with the Red Cross to distribute the lamps in refugee centres. But Caroline Angus, CEO of Deciwatt, the company developing B2B partnerships for the lamp, believed it could also find a leisure market here in the West. Campers and festival-goers could pack one, and it provides emergency lighting in the shed or car as it retains a charge for a long time.
"The fall-off over months is negligible; it's ideal for the shed," said Fullalove.
Ladies and gentlemen, you probably have a shed. You know what to do next. ®