This article is more than 1 year old
Ex-Netflix veep allegedly banked payola for tech deals with web TV giant
Michael Kail's House of Cards tumbles, now Orange is his New Black, potentially
A former vice-president at Netflix has been indicted for allegedly taking illegal kickbacks while making multimillion-dollar deals with the streaming giant's tech providers.
The US Attorney's Office for Northern California, in the US, said Michael Kail, formerly the VP of Internet Technology at the online telly goliath, took more than half a million dollars in payoffs from companies that wanted to sell Netflix the equipment it uses to prop up its massive video library. He is charged with wire fraud, mail fraud, and money laundering.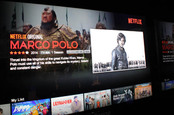 Netflix could pwn 2020s IT security – they need only reach out and take
READ MORE
Kail, 49, is accused of taking the kickback payments in exchange for approving contract bids from nine unnamed companies seeking to partner with Netflix. The payments were made by three companies seeking deals with Netflix, though the DOJ believes that Kail was also given stock options by "numerous other Netflix business partners" while in his VP role.
"In exchange for these payments, Kail allegedly approved millions of dollars in contracts for goods and services to be provided to Netflix by these companies," prosecutors said in announcing the indictment on Tuesday.
The kickbacks were then funneled through a limited liability company Kail set up and used to purchase a new home in the Silicon Valley suburb of Los Gatos – thus answering the question of what it takes to afford a home in Los Gatos these days.
He stands to lose that home, and face a fine of $1m if he is convicted on the nineteen counts of wire fraud, three counts of mail fraud, and seven counts of money laundering listed in the Department of Justice's indictment.
More importantly, Kail would face a maximum of 20 years behind bars for each of the fraud counts and 10 years for each of the money laundering charges, if found guilty. Should he be convicted, Kail would likely get a more lenient sentence.
Kail's next scheduled court appearance is for a July 10 status conference. Until then, he is free on bond. ®