This article is more than 1 year old
Spine-leaf makes grief, says Arista as it reveals new campus kit
What you need is a switched 'Spline', says Cisco-irritator
Arista Networks has decided the campus network is the next place it wants to irritate Cisco.
The company this week unveiled two campus-scale switches in its Spline range – the 7300X3 and 7050X3, which expand its footprint in the important 100 Gbps Ethernet space. In announcing the company's first quarter results recently, CEO Jayshree Ullal highlighted higher-speed ports as underpinning Arista's expectations for 2018.
The 7300X3 and 7050X3 offer 10, 25, 40, 50 and 100 Gbps Ethernet ports. The 7300X3 is an eight-slot modular unit with various line card options and a backplane capacity of 50 Tbps, while the 7050X3 is a four-slot version with 25 Gbps and 100 Gbps ports and 25 Tbps maximum capacity.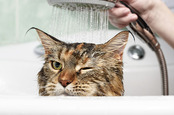 Arista: Sales up, profit up, share price down
READ MORE
So far, so ordinary: switches are, after all, doze-worthy. To give them a special sauce, Arista has pitchedthem as part of what it calls "cognitive campus networking". Ullal blogged that campus networks' traditional access-aggregation-core architecture is becoming "wasteful and oversubscribed".
Arista's pitch with the two switches and their EOS operating system image is to eliminate the spine-leaf design (hence the marketing name, "Spline"), with segmentation handled in the switches' management plane.
The software suite that accompanies the switches includes CloudVision (Arista's turnkey provisioning and management offering), the NetDB publish-subscribe state database (abbreviated to SysDB) model, and a cognitive management plane.
CloudVision aggregates all of the networks' switch states into a consolidated view; provides a management point for third-party controllers, orchestration, and network services; and streams network analytics and telemetry.
Arista's announcement says the cognitive management plane "combines a state repository, a stream computation engine, and various application components built into a horizontally scalable cluster. Each cluster manages a subset of network devices from different vendors and interacts with other clusters through vendor-neutral APIs and standardised models, such as OpenConfig with gRPC."
VMware will come along for the ride: its Pulse IoT product will provide Internet of Things device monitoring and management for the cognitive campus build. Aruba's aboard too, and will put the Arista offering alongside its edge network offerings. ®