A cheeky website is pretending to take attendee registrations and hotel bookings for folks heading to the upcoming Neural Information Processing Systems (NIPS) conference in Montreal, Canada, at the end of this year.
Thousands of AI researchers and previous attendees received an email from the official NIPS team warning of the counterfeit site.
"It has come to our attention that a fake website is offering registration and housing for the NIPS conference," the email stated. "The real NIPS website is nips.cc. Please do not visit nips2018.org."
At first glance, the unofficial site is quite convincing. In the top left hand corner, there's a logo of a neural network next to the words NIPS Annual Meeting 2018. There's also an option to enter your name, email, phone number, address, occupation, country of residence, and number of delegates for "guaranteed registration for attendees."
But right at the bottom of the page, there is a small disclaimer that reads: "We are not official society and neither associated with NIPS 2018. We provide information independently related to the event and accommodation to the participant. For More Information Visit NIPS 2018 Official Website. Click Here."
The real target
Then there's the meat of the hustle: the offer to find "group housing," which supposedly helps attendees find and book accommodation during the top-tier machine-learning conference. After entering the usual personal details, and check in and check out dates, you're directed to a website owned by Kore Conferences.
That company, based in Singapore, claims to be an "international global housing company which provides solutions to your business travel." It claims to offer good hotel deals, and probably makes money through referrals and online bookings. It is likely trying to skim some cash by booking rooms for NIPS attendees while trying to look as official as possible.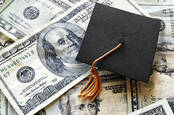 How much do AI gurus really get paid? And is NIPS such a great name for a conference?
READ MORE
Kore Conferences is trying to pull off the same hustle for other conferences. The American Epilepsy Society also cautioned people against Kore Conferences, and described it as a "deceptive business" trying to provide registration and housing or attendee lists for its annual meeting in New Orleans in December.
The Annual Meeting of the Association for Research in Vision and Ophthalmology (ARVO) 2019 conference in Vancouver also reported similar shenanigans. It listed a series of companies, including Kore Conferences, that are well-known "housing pirates" or "housing bandits."
"These are companies that phone, fax or email attendees and exhibitors, claiming to offer good deals on hotel rooms," it advised.
"Unless you have initiated the communication, please do not provide anyone with your personal information, especially your credit card number. If you provide your credit card information to one of these companies, your card may be charged and there is no guarantee you will have a room upon your arrival in Vancouver."
We have asked Kore Conferences for comment. ®
Similar topics