Public, private, hybrid cloud? Take a dip in our GreenLake HPE urges
If you could buy some hardware too that would be great
---
At its Discover conference on Tuesday Hewlett Packard Enterprise rolled out a managed service for private, public and hybrid clouds starting with AWS, Microsoft Azure and Azure Stack.
The GreenLake Hybrid Cloud includes a set of tools and operational services that are supposed to make workloads across multiple clouds easier to implement, configure and manage for clients. At least that is what it says on the tin.
"At one point there was this industry buzz that the cloud was going to simplify everything and really it hasn't done that. Most customers end up on their hybrid cloud strategy mostly by accident and its complicated," said Ric Lewis, HPE senior veep and GM for the software defined and cloud group.
The added challenge for customers is that there are also multiple silos, tools, deployments models for VMs, containers or native cloud wares and figuring out where they all run, he said.
Then of course there is the management of the whole thing - applications, maintaining their performance, deploying stuff quickly and ensuring developers are doing their sweet work in a secure way that fits in with the environment.
Lewis said there are a "hodge podge" of tools out there in the market but that IT ops folks desire something which is repeatable, standardized and can maintain data compliance in highly regulated industries.
GreenLake Hybrid Cloud includes tech from several cloud minnows that HPE has acquired in recent time - Cloud Technology Partners (CTP) and Cloud Crusier.
Birth of an idea
First off, HPE inherited the minimum viable cloud methodology from CTP which gave it the ability to build out an environment - AWS calls them landing zones - and HPE said it uses an infrastructure-as-a-code approach.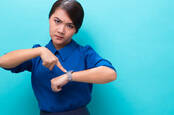 HPE: Only 5% of our kit is sold as-a-service. So now we're really getting our aaS in gear
READ MORE
This prescriptive architecture and method lets clients build a cloud infrastructure in a consistent way, said John Treadway, CTP senior veep for strategy and portfolio.
The tech includes "tooling, automation libraries and components so we can have high degrees of reuse, accelerate the build out of an architecture in the cloud… and onboard applications much more quickly," he told The Reg.
Part of the managed services is also the break fix element provided by HPE, as is multi-vendor support in the data centre and "adaptive management services" that are designed to automate operational services.
"We use the same architecture and deployment model in Azure and Azure Stack,. The environment these applications run in is similar, of course Azure, Azure Stack and AWS are different environments but they are similar and operable the same way," claimed Treadway.
He said the automation built for AWS, for example, is based on AWS cloud formation templates, and Azure is based on Azure Resource Manager templates.
"We are doing native native in these environments because that is where you get the most amount of leverage with the APIs and the tooling, and staying up to date with the many, many service releases that the hyper scale cloud providers put out every year."
CTP's Continuous Compliance Service (CCS) is another tool HPE had included in the managed service, used to scan the infrastructure for against over 1500 compliance rules.
"We can also customise that for clients' own control frameworks internally, and we scan it continuously. That means if you are going to deploy a workload that has a compliance requirement… we can test rules to make sure the environment is in compliance and defined," said Treadway.
Similarly, CCS detects if the right security, the right IP setting or the right monitoring tools are used and if not, "we will see that, tell you that exists and help you shut it down so applications are not being deployed in a way that in unsafe and not in compliance," he explained.
HPE is also integrating a cost management tool and billing systems from Cloud Cruiser, which the company acquired in 2017. The in-built analytics will detail cloud usage and HPE said it will make recommendations to save customers money.
8 out of 10 IT managers said...
In pilots of GreenLake Hybrid Cloud, HPE claimed to have knocked off up to a third of a client's bill by helping them determine if they'd over-scoped certain instances, if were using on-demand instances where reserved instances would have sufficed.
"We actively manage the consumption of our clients on the public cloud in a way that reduces their bill from the public cloud providers," said Treadway. "It can be significant, in some cases, we've seen 30 per cent saving off their monthly bill from AWS based on recommendations and changes we made."
Software that sits on top of all of this is HPE OneSphere, used for access control and management, governance and visibility into all the data - a customers' operational data, cost data and compliance data.
HPE has kick started the service with two of the biggest public cloud vendors but said it will add more of its own IP, and bring on more cloud providers including other big brands and some of the Cloud 28+ crew.
Cloud 28+ was launched in December 2015, it is a open source platform to deliver cloud-based infrastructure or platform services, providing a marketplace for customers to find cloud boutiques that fulfill their need. It currently has 716 providers across 60 countries.
There a number of cloud optimization tools on the market, including Turbonomic, Spotinst, DivvyCloud, ParkMyCloud, Kasaya Unigma, CloudCheckr and App Direct. AWS has Trusted Advisor. HPE's service seems pretty comprehensive though, covering multiple clouds types and wrapping the tools into a service.
One small detail missing
One of the questions HPE left unanswered is the price of GreenLake Hybrid Cloud. Treadway told us:
"We are not announcing pricing at this point, availability will be at the end of the fourth quarter, or early in the first quarter. We are intending to be very successful and are not going to price ourselves out of the market."
He claimed the service has a high level of automation which should keep costs down for HPE and for clients, and said customers will clearly not want to be "blown away by [HPE's] management fee'.
An HPE customer that spoke to us on the condition of anonymity, said "cost best practices blended with a tool may yield results.
"HPE are late to the game however not all [existing] tools are efficient across all types of technologies," our contact said. "I suspect HPE's might not be either." ®