Tata on trial: Outsourcer 'discriminated' against non-Asian workers, claim American staff
Caucasian employees allege pattern of unfair treatment at Indian IT consultancy giant
India-based IT outsourcing biz Tata Consultancy Services (TCS) will finally face trial over claims that the company discriminated against workers at US facilities who were not from South Asia.
The trial, being held this week in a California courtroom, follows from claims brought in 2015 by three IT workers – Steven Heldt, Brian Buchanan, and Christopher Slaight – who allege that TSC restricted their responsibilities and fired them in violation of US employment laws. The case has been allowed to proceed as a class-action covering about 1,000 former employees who are not South Asian.
"Tata has engaged in a systematic, company-wide, pattern and practice of discriminating in favor of South Asians and against individuals who are not South Asians in hiring, job placement, and termination," the amended complaint filed in an Oakland district court states.
Let's talk statistics
About 95 per cent of Tata's approximately 14,000 workers in the US are South Asian, mostly from India, the complaint says, whereas the ethnological group only accounts for 1 to 2 per cent of the US population overall. This disproportional representation, the complaint alleges, reflects an intentional pattern of employment discrimination against workers who are not South Asian or ndian.
Tata's defense against these statistics has been to attack the validity of the figures. In a letter last year, attorneys for the company argued, "census data relating to the population as a whole says nothing about the demographics of qualified IT employees in regions where named plaintiffs worked or allegedly applied for work."
The company's legal team also attacked the methodology of a study used by the plaintiffs in their claim, but it wasn't enough to prevent the case from heading to trial.
In opposing efforts to dismiss the case, the law firm representing the plaintiffs, Washington, DC-based Kotchen & Low, presented evidence that Tata had fired more than 10 per cent of its non-South Asian workers during the time period at issue. compared to less than 1 per cent of its South Asian workers. The possibility that such skewed results could occur by random chance, according to the firm's expert, is less than one in one billion.
In an email to The Register, attorney Daniel Low summarized the trial's first day:
Today we did opening statements, presented our expert Professor David Neumark, presented three witnesses by deposition transcript, and began examination of an HR executive for Tata.
Professor Neumark testified that there were gross statistical disparities in Tata's terminations of South Asians versus non-South Asians, based on which he said the statistical evidence is strongly consistent with discrimination.
In addition to the statistical evidence, we intend to demonstrate that Tata had a leadership directive to favor H-1B visa workers over locally hired employees, along with anecdotal evidence from class representatives and class members that Non-South Asians were subjected to a hostile work environment, were replaced on client projects with less qualified Indian H-1B visa workers, and were passed over for client assignments in favor of South Asians.
In cross-examining Professor Neumark, Tata suggested that his statistical analyses were flawed because H-1B visa workers from India were rarely terminated in the U.S. but were sent back to India before being terminated, so the data regarding the terminations was flawed. Their cross-examination was surprisingly brief.
Hostility allegations against some Americans
The complaint contends that most of Tata's US-based business units are headed by South Asian individuals from India. "Among these senior managers, there is a culture of hostility towards, and non-acceptance of American workers," it says. "These senior managers have resisted efforts to increase racial and/or national origin diversity among Tata's workforce."
As an example of managerial attitude, the complaint points to M.P. Saravanan, vice president of human resources at TSC's hiring group at the time of lawsuit was filed.
"In front of recruiters and management, Mr. Saravanan has expressed his dislike for American workers," the complaint says. "He has also stated that he believes Indians were smarter and better qualified than Americans. On at least one occasion, Mr. Saravanan gave explicit instructions to two recruiters in the Talent Acquisition Unit to hire only Indians, rather than Americans, for positions in the United States."
Asked about how TCS's alleged actions have affected the plaintiffs, Low said, "The discriminatory terminations caused emotion pain and suffering, and has negatively impacted class members' careers."
Fake news!
In a statement emailed to The Register, a spokesperson for TCS said, "TCS believes the allegations in this case are baseless and is confident that it will successfully defend itself."
"Our customers expect TCS to provide world-class talent for their technology needs. Our success is based on our ability to provide the best talent available, both in the US and globally, based purely on the individual's specialized experience, skills and fit for each client's specific needs. TCS also strictly adheres to all federal and state equal employment opportunity laws and regulations."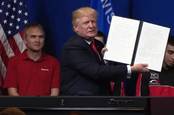 Trump signs exec order signaling foreign H-1B visa techie crackdown
READ MORE
One of the ways TCS skewed its worker demographics, the complaint says, is by bringing in workers using H-1B visas and managers using L-1 visas. At the time the complaint was filed, the federal government was investigating layoffs at Southern California Edison for possible discrimination following the firm's decision to outsource some IT work to Infosys and TCS. By 2016, the probe ended without charges.
But the following year, the Justice Department issued a warning to employers seeking H-1B visas to avoid discriminating against US workers and the US Citizenship and Immigration Service (USCIS) said it would tighten rules to fight H-1B visa fraud.
The tough line being taken by federal authorities has caused problems for some tech companies. Last week, Compete America, a group representing firms like Amazon, Google, Microsoft, and Oracle, among others, sent a letter to USCIS and the Department of Homeland Security complaining that the government's handling of H-1B visas "wreaks havoc among the nation's employers which are hiring high-skilled Americans and foreign-born professionals." ®