This article is more than 1 year old
Americans are just fine with facial recognition technology – as long as they get shorter queues
The younger generation leads the fight against face matching
Surprise, surprise, most Americans believe the US government shouldn't limit the use of facial recognition technology, particularly if it's convenient for them or used for their protection.
The Center for Data Innovation, a non-profit think tank focused on technology and policy, conducted an online poll asking people if Uncle Sam should regulate facial recognition. Out of all 3,151 participants, 26.2 per cent agreed it should be curbed, compared to 44.9 per cent, who disagreed, according to figures revealed this month.
The gap widened slightly, however, when the question was refined and included specific scenarios. Previous skeptical attitudes to the technology were somewhat dropped if it meant that stores could use the tech to reduce shoplifting – by catching known thieves – or if airports could use it to speed up security lines.
Click to enlarge ... Source: Center for Data Innovation
Interestingly, when the results were broken down by age and gender it appeared that millennials were more wary of facial recognition than oldies. Some 29.8 per cent of 18-to-34-year-olds believed the government should "strictly limit" the use of the technology, compared to 25.7 per cent for 35-to-54-year-olds, and 23 per cent for people over 55. Men were also more likely shun it than women.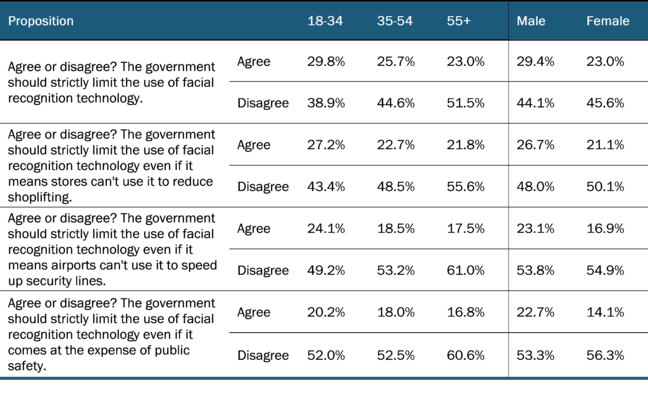 Source: Center for Data Innovation
The survey did not probe into why younger people and men were more likely to disagree with facial recognition. It has already been rolled out for many of the cases posed in the survey.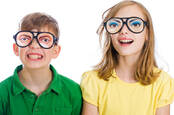 Anonymous Amazonian demands withdrawal of face-recog kit from sale
READ MORE
Last year, a man was caught trying to sneak into Washington Dulles airport by a biometric scanner. It alerted officials to a mismatch between his real face and the one printed on the French passport he was carrying. He was later to be found concealing an ID card issued from the Republic of Congo in his shoe.
As for catching shoplifters, companies like FaceFirst have partnered with retailers like Walmart and Target to carry out experiments. There is currently no federal regulation, despite tech giants like Microsoft urging the US government to implement new laws.
It's tricky to know where to draw the line exactly, considering the government is using the technology too. US Homeland Security recent installed AI cameras around the White House to catch "subjects of interest". Amazon's Rekognition tool has also been linked to several police departments as well as the US Immigration and Customs Enforcement to identify people from security camera footage. ®