Nominet has thrown out an attempt at reverse domain name hijacking after some, er, pushy Brits tried seizing their old web address from a fast-fingered fellow in Romania.
Pusher Ltd failed in its attempt to take control of the domain pusher.co.uk from Lee Owen, a resident of Romania, after forgetting to renew its registration.
The UK firm's later attempt to use Nominet's quasi-legal Dispute Resolution Service (DRS) to get it back was ruled to be an attempt at reverse domain name hijacking – a complicated way of saying Pusher had tried to trick the DRS into giving it something it wasn't entitled to have.
Normally DRS cases are brought against domain-squatters: the sort of people who register domains such as hmrcsubmitareturn.co.uk with the obvious intent of doing something dodgy. However, the dispute resolution service also deals with domain-based trademark infringement cases, which is what Pusher claimed Owen was doing when he registered pusher.co.uk on 15 October 2018.
Unfortunately for the Pusher people, Nominet didn't have tombstones in its eyes when it ruled that the company had simply forgotten to renew its domain and missed out on buying back control of it.
"While the Complainant has trade mark rights, they are very narrow and are restricted to computer software and related goods and services," ruled Nominet expert Tony Willoughby, who delivered a written judgment of the case. "Nothing that the Respondent has done infringes the Complainant's trade mark rights."
While Pusher had complained that Owen's ownership of pusher.co.uk was an abusive registration "clearly made with the intention of seeking payment from us as the registered trademark owners" (which would be a breach of Nominet's terms and conditions for dot-UK domain names), even Willoughby commented: "These contentions are long on bare assertion and very short on supporting evidence."
Owen shot back by complaining that Pusher was trying to use the quasi-legal process "in bad faith in an attempt to deprive him of the domain name". Willoughby agreed, ruling that Pusher had brought a "speculative complaint" because it was "frustrated at the consequences of its failure to renew its registration of the Domain Name".
The simple fact of the matter is that the Complainant ignored all available advice and numerous warnings and has suffered the consequences. All of it is down to the Complainant's failures. None of it can sensibly or fairly be laid at the door of the Respondent.
Pusher's domain name hijacking attempt was dismissed. The ruling for case number D00020783 can be read on the DRS website.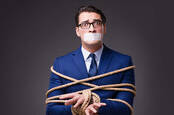 Another day, another mass domain hijacking
READ MORE
Domain name hijacking is a term traditionally associated with hacking, as in the case of Swiss domain registrar Gandi last summer, which lost control of 751 customer domains after an unidentified person got hold of login creds allowing them to wreak havoc. In a way, misuse of the DRS could be seen as trying to do the same thing through legal means, also known as "lawfare".
Back in 2003, Britain's Driver and Vehicle Licensing Agency tried using a multinational forerunner of the Nominet DRS to deprive an American company, DVL Automation Inc, of the domain dvla-dot-com (warning: do not visit the URL, it has long passed out of DVL's control and is now serving auto-install malware). That also failed. ®
Similar topics