UK's planned Espionage Act will crack down on Snowden-style Brit whistleblowers, suspected backdoored gear (cough, Huawei)
Obscure legal doc catapulted to prominence by Home Sec
UK Home Secretary Sajid Javid has announced an Espionage Bill, charging ahead with new laws intended to criminalise any British copycats of Edward Snowden – and allowing a future crackdown on Huawei.
The bill, said Javid, "will bring together new and modernised powers, giving our security services the legal authority they need" to tackle foreign spies operating on UK soil.
"The areas this work will consider includes whether we follow allies in adopting a form of foreign agent registration and how we update our Official Secrets Acts for the 21st century," the Home Secretary said at New Scotland Yard earlier today.
He also called for new treason laws, which he said would be aimed at people who "betray" Britain, whether at home or abroad.
Announced during a wide-ranging speech delivered to police and spy agency personnel at the Metropolitan Police's London HQ, few details were given about the proposed Espionage Bill's contents. Much more, however, can be found in a Law Commission consultation dating back to 2015, titled Protection of Official Data, and discussing what was then considered a potential future Espionage Bill.
Although it was supposed to be published back in 2017, having been closed to new submissions years ago, the commission's final report on that bill has been stuck in limbo for the last two years. Now, it seems, we know why.
Most of the commission's full consultation (a 326-page PDF accessible via the link above) is concerned with what the British state calls "unauthorised disclosures", as well as a truly obscene section (between PDF pages 146-149) discussing legal ways and means of letting state prosecutors carry out "authorised checks" on juries sitting in national security and terrorism cases. These, it is stated, should be done with a view to throwing out any jurors who might return the wrong verdict by sympathising with the accused.
"After the United States, we are probably the largest contributor to the international system of defence and intelligence that keeps the world safe," boasted Javid in today's speech. Chinese company Huawei dominates current UK and US discussions about national security and the risks of allowing companies from the communist state to build vital national infrastructure.
The following part of the 2015 consultation regarding foreign-owned companies "acting... as an emanation of the state" will therefore be seen to bolster Britain's reputation in American eyes: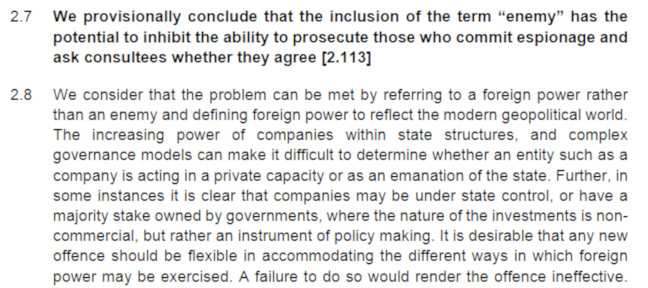 Extract from this summary (PDF) of the 2015 consultation
A Law Commission spokesman told The Register that the body's Protection of Official Data report would be published in "autumn 2019". ®