This article is more than 1 year old
Remember Stuxnet? You'll endure its hated-by-critics sequel if you don't patch your holey Siemens industrial kit
Power, infrastructure, factory gear can be hijacked without any password check at all
Industrial control software vulnerabilities, which would be perfect for next-gen Stuxnet-style worms to exploit, are as prevalent as ever, apparently.
A report out this week from Tenable outlined a series of CVE-listed security holes in the products of four of the largest industrial control system (ICS) makers, including Siemens, whose controllers at Iranian nuclear enrichment plants were the primary target of Stuxnet.
Developed chiefly by America and Israel, Stuxnet worked by infecting Windows PCs and searching networks for computers connected to particular Siemens industrial controllers – those seemingly configured to regulate the rotor speed of gas centrifuges used by Iran – and then reprogrammed the controllers [PDF] to stealthily wreck the sensitive high-speed enrichment equipment. Specifically, Stuxnet exploited three holes in Microsoft Windows and one in Siemens's Windows-based SIMATIC software to commandeer gear in Iran's nuclear program.
It is therefore feared future strains of Stuxnet-like nasties, developed by any competent hacking operation, could potentially seize upon similar flaws still present in systems controlling important machinery and cause rather unpleasant damage.
Critical
For this latest research, Tenable engineer Joseph Bingham said he and his team examined four ICS vendors' products over a period of nine months going back to September of last year, and found a total of 17 security flaws, all but three considered to be critical. The probed equipment is used to monitor and direct all sorts of vital gear, like power station systems, factory lines, and other bits of infrastructure. It's the sort of stuff you don't want to be reprogrammed or manipulated unexpectedly from afar by miscreants.
Among those discovered holes was CVE-2019-10915, a critical bug in TIA portal, the web application Siemens provides to allow administrators to remotely send commands to installed industrial controllers. An attacker on the network can completely bypass authentication checks and fire off arbitrary commands to hijack equipment without any password needed – obviously not something you want for a critical industrial management appliance.
"An attacker can bypass HTTP authentication and access all administrator functionality by directly sending WebSocket commands to the server," Bingham explained.
"A remote attacker is able to force a malicious firmware update from an arbitrary server (resulting in remote code execution), modify user permissions, or change application proxy settings."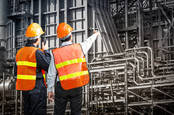 Just a reminder: We're still bad at securing industrial controllers
READ MORE
Siemens has since issued a patch, and admins are advised to test and install the fix as soon as possible.
Though it was the most recent, the Siemens bug was far from the only critical flaw the Tenable researchers discovered. Industrial control appliances from Fuji Electric (in the Tellus V-Server), Schneider Electric (InduSoft Web Studio and Modicon PLC), and Rockwell Automation (RSLinx) were also found to contain flaws ranging from medium to critical severity.
Overall, the research paints a less than encouraging picture of the progress that the ICS and security communities have made in the nine-plus years since word first broke of Stuxnet and its exploits in sabotaging Iran's uranium centrifuges. On the other hand, software will always have bugs, and this is all software controlled, so try not to panic.
"Stuxnet only needed three new vulnerabilities to spread through an isolated network and damage centrifuges in the targeted Iranian nuclear facility," Bingham noted. "Any of the vulnerabilities… could have been discovered by a threat actor and used as a key component in a targeted attack to disrupt or damage industrial hardware." ®