Lenovo unfolds time frame for bendy ThinkPad: Pricey Windows PC out in summer '20
Phone, wallet, keys... and foldy PC
Canalys Channels Forum Life for ThinkPad fanatics looks to be getting a lot more flexible in the near future with a premium Windows-based foldable PC set to start shipping from next summer.
A brief sight of the as yet unnamed machine, the latest in the ThinkPad X1 line, was given at the Canalys Channels Forum in Barcelona yesterday.
The strange introduction saw Lenovo's Milanka Muecke, director of global commercial comms and brand, pull the 13" OLED screen device out of her handbag to demonstrate its bendiness.
"I have it right here and you can have it in your purse," she said. "It looks like a leather bound notebook that you can carry with you all day long, but it is a full performance PC that fits in the palm of your hand."
Helpfully, Lenovo mentioned potential use cases, those being anything a user can do on a standard computer: check the weather online, shop, read and of course, work.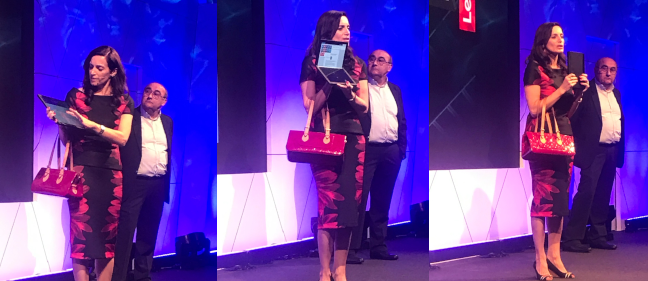 And you ...fold it... like so
The PC was again folded and packed back into the relatively small handbag, locked tight along with the answers to questions we asked – price and the quality control procedures. More information will arrive nearer the ship date.
"It will start shipping probably Q2 next year," said Gianfrano Lanci, chief operating officer at Lenovo, also on stage at the event.
Lanci said the "hardware is ready but we need to still fix certain things from a software point of view and that doesn't depend 100 per cent on us." Lenovo didn't elaborate further on the software work being done.
The COO is not expecting the foldable PC to set the world alight from a sales perspective but said it represents a new form factor.
Samsung generated a lot of interest in its Fold smartphone earlier this year but fell foul of negative reviews as a legion of testers found defects in the hardware that ultimately led to its launch being delayed until September as it ironed out the, er, kinks.
The perils of Samsung's experience won't have been lost on Lenovo, and neither will the Fold's eye-watering price tag. With Lenovo's foldable PC joining the ThinkPad range, Lenovo's innovation won't come cheap. ®