This article is more than 1 year old
UK culture sec hints at replacing TV licence fee, defends encryption ban proposals and her boss in Hacker House inquiry
Nuggets from Nicky Morgan's grilling by select committee
Culture secretary Nicky Morgan has hinted that the TV licence fee could be replaced with a Netflix-style subscription, defended Boris Johnson's involvement with Hacker House, and toed the government line on halting end-to-end encryption.
Morgan answered a wide range of questions about the work of the Department for Digital, Culture, Media and Sport (DCMS) from its select committee yesterday.
On the licence fee issue she said she was "open-minded" about scrapping the mandatory £154.50-a-year licence fee and replacing it with a subscription service similar to Netflix.
"What I haven't seen is any evidence, either way, [of] what a subscription-based system would do in terms of the revenue. The licence fee last year raised £3.7bn for the BBC. They obviously have other sources of income as well. So I would need to understand what, if you were going to change, that would do to their income."
Morgan also said she would not intervene in the BBC's decision to abolish free TV licences for over-75s.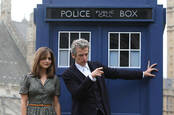 BBC detector vans are back to spy on your home Wi-Fi – if you can believe it
READ MORE
DCMS is currently conducting a review of how it awarded money to infosec training biz Hacker House, amid questions over the company's tenuous links to the UK. It has been reported that its co-founder, Jennifer Arcuri, secured UK government funding because of her personal relationship with now-Prime Minister Boris Johnson.
In February 2019, following an "open and fair" competition, Hacker House was awarded up to £100,000 of grant funding under the Cyber Skills Impact Fund, Morgan said in a letter to the committee.
"I am keen to emphasise that any notion of the Prime Minister influencing – whether directly or indirectly – any aspect of the due diligence, assessment and award of any grant funding made through the CSIIF is simply not true," she said.
During the hearing, Morgan was urged to refer the company to the police if it found that the money had been obtained fraudulently.
She said: "I can't make that assumption at the moment. But the whole point of having a government internal audit service looking at this is to make sure that we take it seriously."
Morgan was also quizzed about whether visitors to Gov.uk had given informed consent for data to be gathered about their browsing history, following a Buzzfeed story last month.
She said she hadn't logged onto Gov.uk to see what people are specifically being asked to consent to. "Perhaps there is always more to be done to explain how data is being used. But I do think it is right that we should understand what pages are most popular, where people are going after they look at those pages and [whether] they are accessing information or not."
The Information Commissioner is currently looking into the collection of Gov.uk data.
On broadband, she said that while the government's proposals of gigabit speeds for all by 2025 were "ambitious", it was still achievable. "I still use the phrase 2025 and so does the Prime Minister. I am very clear in the department, it is 2025 that we are aiming for."
Morgan was also asked if her department was consulted about the arrangement of data sharing between Lewisham and Greenwich NHS Trust and Experian to check whether patients could receive free treatment. "I am not aware of the issue, I would have to ask internally," she said. DCMS is the department in charge of government data policy.
She was also asked her opinion about Home Secretary Priti Patel's calls for Facebook to cease its end-to-end encryption plans. "I think the Home Secretary made an extremely good point it is a concern," she said, adding it was a particular issue when it hinders law enforcement investigations.
However, as the the European Internet Service Providers Association has pointed out, weakening encryption "will always be exploited by ill-intentioned hackers, undermining cybersecurity and privacy for all users and businesses online".
Morgan was appointed Secretary of State for Digital, Culture, Media and Sport in July 2019 after Jeremy Wright was sacked by Boris Johnson. Previously she was chair of the Treasury Select Committee following the 2017 General Election until July 2019. ®