Google lashes out at DoJ, Oracle as it asks US Supremes to sniff Java suit one last time
It's like reinventing the steering wheel... so they say
Google has hit back at US president Donald Trump in the never-ending legal spat over its use of Oracle's Java code in the Android mobile operating system, urging the US Supreme Court to judicially review an appeal court's 2016 ruling against it.
In a legal submission (PDF) made to the highest court in America, the Chocolate Factory's lawyers urged judges to ignore the rival urgings of the Trump administration's Department of Justice to leave the damn case alone.
Lawyers for Google thundered in their most recent filing: "The Solicitor General's further effort to cabin the Federal Circuit's fair use ruling as factbound is refuted by the 175 individuals, companies, and organizations that filed 15 amicus briefs in support of the petition to explain that it is imperative that this Court grant certiorari."
Certiorari is the American cod-Latin legal term for judicial review, which is where senior judges take a look through the legal decision-making of a junior judge to check they got it right. It's different from an appeal: a judicial review doesn't normally hear fresh evidence or new arguments but instead goes through everything used in the original decision to double-check the resulting ruling was legally OK.
Should the US Supreme Court judges do as their government urges them to do and refuse the judicial review application, Google will have to pay out $8.8bn in damages to Oracle over its unlicensed use of Java in Android.
As we noted a few years ago when Oracle won one of the intermediate stages in this courtroom war, those damages comfortably exceed the $7.4bn Oracle paid to buy Sun Microsystems, the original inventors of Java.
Boasting about the "breathtaking importance" of the case and the "overriding importance of the questions presented", Google's platoon of lawyers claimed: "The issue is whether copyright law prohibits reimplementing – i.e. reusing – the software interfaces that are necessary to connect dozens of platforms to millions of applications on billions of devices."
They continued, no less breathlessly, that "banning the reuse of interfaces is equivalent to mandating that car companies 'invent a substitute for the steering wheel'... or that manufacturers replace the 'plug and electrical outlet combination'."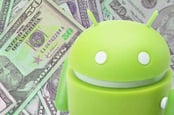 Oof, are you sure? Facing $9bn damages, Google asks Supreme Court to hear Java spat
READ MORE
During the bitterly fought litigation Google basically argued that using Java was covered by the American IP doctrine of "fair use", a defence that failed.
Although Oracle hasn't responded yet to the filing, it seems very likely that its view won't have changed since January. Back then Larry Ellison's crew said: "The fabricated concern about innovation hides Google's true concern: that it be allowed the unfettered ability to copy the original and valuable work of others as a matter of its own convenience and for substantial financial gain. This is not, and has never been, a valid justification for copying."
The case, which is a few months short of its 10th birthday, continues. ®