This article is more than 1 year old
Just in case you were expecting 10Gbps, Wi-Fi 6 hits 700Mbps in real-world download tests
Pretty fly for a Wi-Fi...
Updated The long-awaited future of super-fast wireless is here, with the Wireless Broadband Alliance (WBA) claiming speeds of 700Mbps in a real-world environment using the Wi-Fi 6 standard.
In a trial that the WBA says is "the first of its kind in the world," carried out in the "hostile" environment of the Mettis Aerospace facility in the UK West Midlands, testers were able to use the new standard (802.11ax for those used to the old terminology) to deliver a range of mixed-media to different devices.
That included 4K video from a webcam and YouTube streamed from a laptop, as well as large video files sent across the network, a video-call to a mobile phone, and a VR experience that put a tablet next to a piece of machinery to get an instant reading of the real-time pressure and performance of the machine. This was all done across a busy factory at a rate of 700Mbps with a latency of 6ms.
To put things into perspective, Wi-Fi 5 aka 802.11ac - which you will typically be using if you have the latest machines and routers - offers a theoretical maximum speed of 1.3Gbps but in reality delivers about 200Mbps. Older Wi-Fi standards like 802.11n, or Wi-Fi 4 in marketing speak, offer a theoretical maximum speed of 150Mbps for standard network adapters.
And bear in mind, yes, we're talking about normal 2.4GHz and 5GHz Wi-Fi here, not 60GHz Wi-Fi aka WiGig, which is much faster but can't easily penetrate things like walls. This WBA study is focused on Wi-Fi 6, which has a theoretical top-speed of 10Gbps, and as you can see, in practice, it's a lot lower. But not too low.
Whoooosh
If you want to stream 4K video without any problems then you really need 25Mbps - which can be hard in real-world environments. If you have multiple devices all streaming content, that becomes increasingly difficult. However, Wi-Fi 6 will soon offer the realistic ability for multiple devices to simultaneously watch very high definition video off the same network.
And, yes, we do think that's great.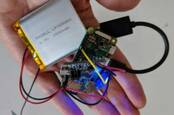 Hack-age delivery! Wardialing, wardriving... Now warshipping: Wi-Fi-spying gizmos may lurk in future parcels
READ MORE
Here's some important specs: the streaming YouTube video was run on a laptop running Intel's AX200 wireless chip; the video-call was on a Samsung Galaxy S10 phone using Broadcom's BCM4375 chip; and the setup used 11 Catalyst 9100 access points from Cisco. We note that the iPhone 11 also supports Wi-Fi 6, so it is out there in some consumer gear.
"The completion of this initial phase marks a significant milestone for the adoption of Wi-Fi 6," said WBA CEO Tiago Rodrigues. "The Mettis facility is an especially challenging environment for wireless communications with furnaces, presses and heat, a lot of moving heavy machinery and the presence of dust and in-air particulates.
"Nevertheless, the field tests in this highly charged atmosphere have proven that Wi-Fi 6 technology works well and can play a vital role within the industrial enterprise and IoT ecosystem. If Wi-Fi 6 can deliver highly reliable, high quality and high bandwidth communications in this type of factory environment, then it can deliver it almost anywhere."
In other words: result! ®
Updated to add
A spokesperson for the WBA has been in touch to say this is just the first phase of its testing, and it expects speeds to increase:
The phase 2 testing will be applying some additional Wi-Fi 6 features and testing over 160GHz where we expect to see the 1Gbps-plus results – so this initial phase supported fully working low latency applications at the 700Mbps speed and this is just the start.