VMware virtually untouched by virus, impact of private Keith Urban concert for customers uncertain
Beats the guidance it didn't think would survive the pandemic
---
VMware's financial performance appears to have been virtually untouched by the novel coronavirus, after the company today posted fiscal Q1 2020 revenue of $2.734bn – four million dollars more than the guidance it pulled due to uncertainty about the pandemic's impact on the world economy.
The company did experience some financial impact [PDF] as core software-defined data centre products declined 7 per cent year on year, attributed to customers just having other things to worry about. Sales of end-user compute tools made up the gap, jumping by 10 per cent year on year. Both VMware-on-AWS and Carbon Black recorded triple digit year-on-year growth while its virtual storage and network virtualisation products each scored 20-per-cent-plus growth.
Overall, for the three months to January 31, revenue was up 11.6 per cent, still decent even with the recently acquired Pivotal's $200m a quarter now on the books.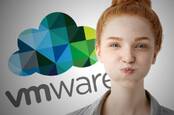 Still hoping to run VMware's ESXi on Arm any time soon? Don't hold your breath – no rush and no commitments
READ MORE
CEO Pat Gelsinger on Thursday told investors he expects the next couple of quarters to be tough and that "no market segment, no geo is immune to those effects." But he also said he expects the technology industry growth to outperform gross domestic product and cloud to outperform the technology industry. Which with GDP predicted to plunge by ten percent or more in some nations, and demand for tech down five to ten percent, could leave VMware and other cloud-centric companies looking at a still-substantial contraction.
Gelsinger said VMware recognises it has a job ahead of it. The CEO believes his sales team showed they can work remotely effectively in Q1, but that the company will need "new sales muscles" as customers' priorities change and VMware has to find a way to ensure projects it is a part of still get the green light.
He doesn't see the recently released version of vSphere with Kubernetes helping much as that will take a couple of years to be widely adopted.
The company offered guidance of "approximately $2.8bn" for its fiscal Q2, but declined to re-state full-year guidance. When the company did so it predicted a $12bn haul for the year. Now it's happy to tell investors they can expect "mid-single digits for full year FY 2021" which would still mean revenue of over $10bn.
So it looks like VMware has a decent chance of emerging from the pandemic in healthy financial shape. The Register has encountered mentions of generosity to its staff. The company has also staged a Zoom concert by country music star Keith Urban (the existence of which was Tweeted by VMware COO Sanjay Poonen) for customers.
Thank you @KeithUrban for a great private virtual @zoom_us concert for @VMware and our customers tonight. This is me and my son watching you. I'm itching to jam on the piano behimd me, to one of your great tunes!!!:) pic.twitter.com/3442mFPoww

— Sanjay Poonen (@spoonen) May 28, 2020
In other VMware news, the company today divulged three bugs that impact its VMware ESXi, Workstation, Fusion, VMware Remote Console and Horizon Client products. The worst of the three, CVE-2020-3958, is rated 7.3 because it offers the chance for local privilege escalation. ®