World Health Organisation AI chatbot goes deaf when asked for the latest COVID-19 figures for Taiwan, Hong Kong
Funny that!
---
The World Health Organisation's Facebook Messenger chatbot refuses to break out the latest numbers of COVID-19 cornavirus cases and deaths for Taiwan and Hong Kong.
The chatbot, built with the help of Sprinklr, a New York-based software company, was launched in April to combat misinformation during the pandemic. But there appears to be a complete lack of information for both territories, who are blocked from joining the WHO as official individual members due to China's insistence the pair are part of the Middle Kingdom.
Taiwan sees itself as an independent nation while Hong Kong is a special case.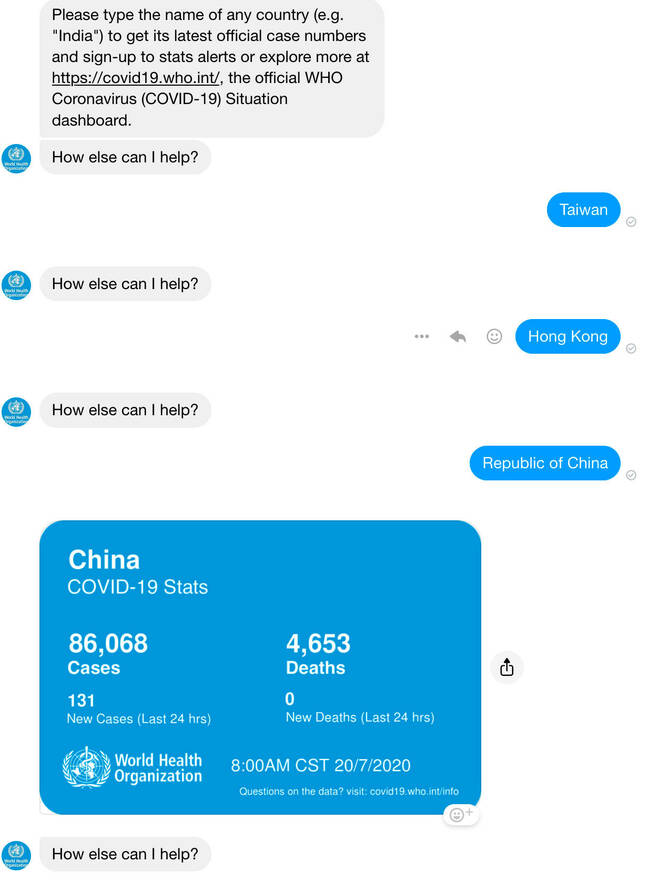 A screenshot of the bot denying all knowledge of Taiwan and Hong Kong ... Click to enlarge.
As non-members of WHO, they obviously won't be included in the stats, you might think. Yet the WHO chatbot has numbers for Kosovo and Palestine, neither of which are members of the United Nations agency.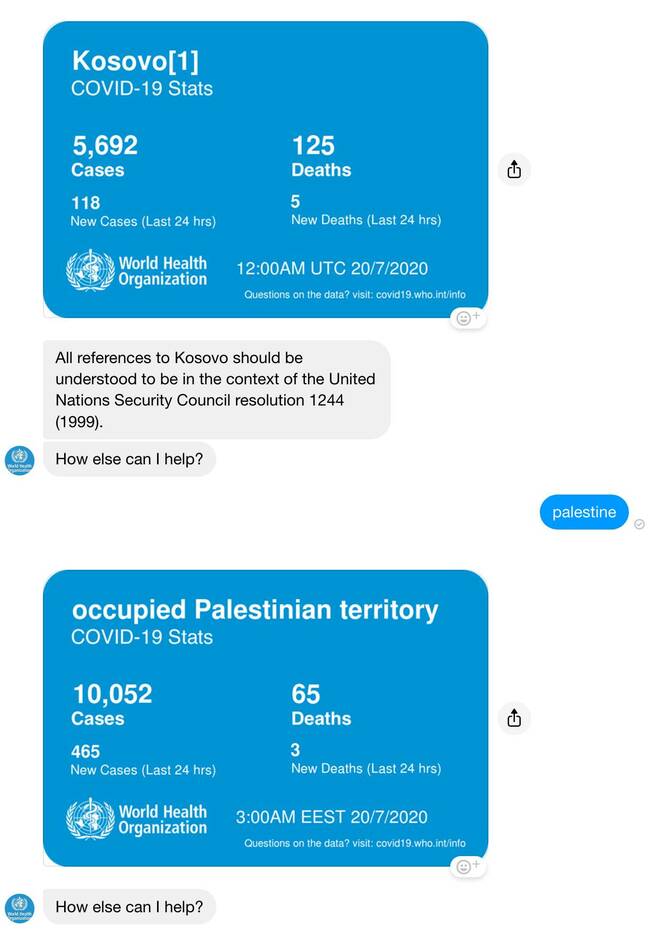 But funny how Kosovo and Palestine are included
Messenger users can track the spread of the novel coronavirus disease by typing the name of a country to see the latest statistics. Type in Taiwan, however, and the bot will cheekily ignore the question, replying with: "How else can I help?"
If the country's official name Republic of China is mentioned, however, the software will spit out the number of COVID-19 cases and deaths for the People's Republic of China – and not Taiwan. The problem was first reported by Taiwan News.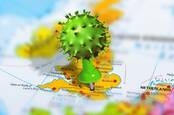 UK.gov admits it has not performed legally required data protection checks for COVID-19 tracing system
READ MORE
When netizens used the shorthand for Taiwan, TW, the chatbot retaliated with "See you later!" The Register noticed that the same problem occurred when we asked the bot about Hong Kong. When we typed in HK, the bot simply said it didn't understand our message. It worked fine when we asked about the US or UK, however.
"As COVID-19 continues to spread around the world, people need verified sources to turn for information and answers they can trust. And they need it on the channels they use most every day," Ragy Thomas, CEO & Founder, Sprinklr, previously said in April when launching the thing. "Every feature in Sprinklr was built over the past ten years to support a moment like this, providing organizations a way to receive and respond to people 1-to-1, at massive scale, on any modern channel."
Sprinklr described its software as an "AI-powered bot," so it probably uses a mixture of natural language processing algorithms to figure out what's needed from the input text. The chatbot should then respond with a limited number of pre-programmed replies.
The Register has asked Sprinklr and the WHO for an explanation. But we suspect it's because China has told WHO to not treat Taiwan and Hong Kong separately. ®