This article is more than 1 year old
Tencent set to slurp Sogou, China's second largest search engine, and snaffle its super-popular text editor
Half a billion users for $3.5bn - bargain!
WeChat owner Tencent Holdings wants to acquire China's second-largest search engine Sogou for around $3.5bn.
Sogou, which was founded in 2005, is the underdog in the Middle Kingdom's search engine market in China behind Baidu. The latter dominates search in China, accounting for more than two-thirds of the market in June, according to Statcounter. Sogou enjoys around 22 per cent market share.
Sogou also offers "Pinyin," a mobile service that makes it easier to input Simplified Chinese characters. Pinyin has over 500 million monthly users.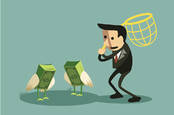 Alibaba's financial arm, Ant, files for monster IPO ahead of march on the world's merchants and shoppers
READ MORE
Tencent currently owns about 40 per cent of Sogou's publicly traded shares and a majority of its total voting power. The proposed deal, which is valued at $9 per share, would see the search engine delist from the New York Stock Exchange, where it raised $585m on its debut in 2017.
The purchase could be a strategic move for Tencent. Although it lags well behind Baidu in search, the company owns WeChat, by far China's most popular social media platform. Combining Sogou's search capabilities with WeChat's captive audience, plus Pinyin's popular user interface, has potential to further cement audience loyalty.
Tencent intends to finance the transaction with cash on hand and has won the backing of Charles Zhang, chief exec of Sogou's umbrella company, Sohu.
A special committee of independent directors will review the proposal, Sogou said in a statement. ®