This article is more than 1 year old
Remember the Titans: Yubico jangles new NFC and USB-C touting security key
Apple crowd included - as NFC can now be used for something other than Apple Pay
Security token biz Yubico has a new key out today, its latest-generation two-factor encryption (2FA) authentication unit, the Yubico 5C NFC, which includes support for PCs and mobile devices using USB-C, as well as a built-in NFC radio.
Previous generations of the Yubikey have had USB-C and NFC, but not in a complete package. The most recent NFC-touting device came with an old-school rectangular USB-A connector, liming its usefulness for new computers, which might not include them. The last model offering USB-C lacked NFC — although it did come with a built-in Lightning plug, effectively covering all the bases of the mobile market.
As before, the Yubico 5C NFC comes with support for the whole gamut of 2FA authentication protocols, including FIDO2, WebAuthn, and YubiOTP.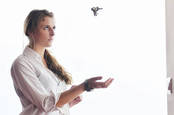 Cache of the Titans: Let's take a closer look at Google's own two-factor security keys
READ MORE
As Reg readers will know, iOS APIs did not allow access to the iDevice's NFC hardware by any non-Apple apps prior to last year's iOS 13, putting a spoke in the wheel of such competitors to Apple Pay as the, er, "Brexit EU settled status app". Authentication on iPad Pro devices via USB-C keys is not yet supported. However, Apple at last relented on the NFC front with the release of iOS 13 last year, meaning punters can use the tech to authenticate using the built-in NFC radios on selected iPhone devices.
The new device comes at a time when there's greater awareness of the importance of 2FA, which as Reg readers know, offers an additional layer of security beyond passwords by challenging attempted log-ins to provided a special, computer-generated one-time password (OTP). According to Duo's State of the Auth 2019 survey, 77 per cent of those surveyed were aware of 2FA, while 53 per cent have used it in their daily lives.
Yubico YubiKey lets you be me: Security blunder sparks recall of govt-friendly auth tokens
READ MORE
Separately, the security issues inherent in SMS-based 2FA (eg, SIM swap attacks) have become increasingly apparent, leading some to adopt more secure application-based and token-based methodologies.
Yubico has had its share of woes recently, and was forced to undergo a major recall in June 2019 after weaknesses were found in the firmware on some devices. Separately, the firm faces increased competition, most notably from Google, which has waded into the token-based auth arena with its own Titan security keys.
The Yubikey 5C NFC is available to buy today, with a retail price of $55 — or roughly £42. ®