India to build home-grown supercomputers, from the motherboards up
Minister says more supers will advance society. So why wait to develop silicon, networks, storage and more?
India's "Atmanirbhar Bharat" program – a national drive for self sufficiency in just about everything – has added building a supercomputing hardware stack to its to-do list.
Minister of state for education, communications and electronics & information technology, Shri Sanjay Dhotre yesterday kicked off the drive by signing a memorandum of understanding (MoU) with India's Centre for Development of Advanced Computing (C-DAC) and National Supercomputing Mission. Dhotre called for India to develop "Critical Supercomputing components like the Server Board, Interconnect, Rack power controllers and Hydraulic controllers, Direct Liquid Cooled Datacenter".
C-DAC director general Dr. Hemant Darbari said his organisation's mission is to: "Establish dependable and secure exa-scale eco-system with innovative designs, disruptive technologies and Expert Human resource. Our goal is to develop our own indigenous hardware encompassing exascale chip design, design and manufacture of exascale server boards, exascale interconnects and storage including silicon-photonics at C-DAC".
Minister Dhotre Tweeted that the effort will "contribute to the socio-economic development of India" and "bring changes in the lives of common citizens."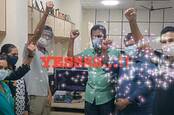 India shows off new home-grown CPU – but at 100MHz, 32-bit and 180nm, it's a bit of a clunker
READ MORE
Supercomputers can certainly do that. However The Register wonders if India might not be able to achieve those benefits rather sooner by using off-the-shelf kit rather than waiting to develop its own stack.
India currently has two supers on the Top 500 list, both from HPE/Cray and running Xeon E5-2695v4 CPUs. India's "Shakti" CPU development team lists an "H-Class" design intended for HPC applications and an S-Class for enterprise servers, so the nation has some building blocks in place. Both use the royalty-free RISC-V architecture, which India has picked for a national microprocessor development challenge. Just how long that effort and other Indian research would take to match the Xeons it already runs is hard to state.
Yesterday's announcement did not include firm targets for delivery of Indian-designed silicon, never mind the rest of the stack minister Dhotre described. ®