This article is more than 1 year old
NHS looks to the market for advice on one system to replace two separate, giant Oracle ERP and HR systems
A hornet's nest within a can of worms running systems worth billions of pounds..
NHS England is looking to replace the HR and ERP systems used by hospitals, community services and family doctors with a single integrated ERP based in the cloud.
The system will look after services which affect more than a million staff and billions of pounds worth of health budgets.
In a tentative tender notice published this week, the executive body which oversees provision of the health service in the UK's largest country, said it was looking for support and advice from software vendors only, to shift to an integrated cloud-based ERP for the NHS in England.
Although the document emphasised the chat with vendors was "not linked to a contracting opportunity", it said it is looking to "build upon" the core staff records systems (Electronic Staff Record or ESR) and finance system (Integrated Single Finance Environment or ISFE), which are run by NHS SBS, a joint venture between the NHS and private sector procurement and business process outsourcing vendor Sopra Steria.
NHS England wants to "identify the likely benefits and drawbacks of adopting an integrated ERP versus separate ESR and finance systems," it said. "This project will also need to consider required business process change to deliver the identified benefits." .
It also wants suppliers to understand how big any system might need to be, should they get a slice of the action.
"To provide some idea of the scale and complexity of the integrated ERP solution, the current systems are used by over 450 separate organisations and over 1.7 million employees. The potential functionalities required are recruitment, HR, payroll, learning, talent management, finance, procurement, planning and budgeting," the tender document said.
Business case by January - but it's very involved
It is not just scale, but also complexity. Any new system potentially encompasses various entitites of the NHS in England including all arm's length bodies, trusts, foundations trusts, and integrated care systems. So that would mean providing the HR and finance backbone to running much of the health service, although some trusts do have their own ERP.
NHS England said it will hold discussions with vendors next week with a view to a recommended approach emerging in a draft outline business case by January 2021.
On the finance system at least, it may be cutting it pretty fine. In 2018, NHS Shared Business Services announced it had won a contract extension to run the service to 2021.
NHS SBS has been providing its finance and accounting services to NHS bodies since 2003 [PDF].
In April 2007, it signed a six-year £19m contract for a finance, accounting and payroll contract with Xansa, the outsourcing and IT business, based on an Oracle r11 system. Xansa was almost immediately swallowed by Steria.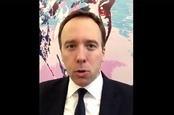 Creaky systems 'cost lives': Health secretary Matt Hancock pledges to solve NHS IT woes
READ MORE
In 2008, iSOFT Business Solutions, part of the iSOFT Group, won a contract to host NHS England's Oracle finance and purchasing applications for a total of 8 years in a contract worth £28 million, with a plan to Oracle Release 12.
'Member NPfIT? We remember
Observers with long memories will recall that iSoft was one of the private sector casualties of the UK's National Programme for IT disaster, which was axed 2011 and "did not deliver key benefits, despite the Department spending an estimated £9.8bn on the Programme" according to the NAO.
In December 2010, Capita bought iSoft Business Solutions for a consideration of £23 million on a cash-free, debt-free basis. Capita changed the name to Capita Integrated Business Solutions some time later.
After having its shares suspended, iSoft itself was sold to CSC.
On the HR side, the initial roll-out of ESR was headed by McKesson, with Oracle providing the software and IBM the hardware, in 2006. The service went to IBM in 2015.
Any software vendors or IT service providers tempted to take on the task of folding these two systems, each with a long and interesting history, into an integrated solution could be taking on a can of worms with a hornet's nest hidden inside. No doubt there would be enough money on the table for them to give it a go. ®