This article is more than 1 year old
Down the Swanny: '2020 has been the most challenging year in my career' says Intel CEO as profit plunges 30%
Enterprise and govt data-center sales halve, Xeon processors delayed
Intel shares dived today after it revealed a steep slump in enterprise and government sales of its server chips – and delays to its latest Xeons.
According to its third-quarter financial figures, released on Thursday, Chipzilla's enterprise and government data center revenues halved, year on year, as customers closed their wallets. Meanwhile, long-awaited 10nm Ice Lake third-gen Xeon Scalable Processors that were due to ship by the end of this year now won't arrive until early 2021.
CEO Bob Swan told Wall Street analysts on an earnings call that "2020 has been the most challenging year in my career" so far. He blamed the spread of the novel coronavirus, social unrest, and global tensions disrupting trade efforts for Intel's glum fortunes. Here's a summary of the numbers for the three months to September 26:
Total revenues were $18.3bn, down four per cent, year on year, but just beat Wall St's expectations by $40m.

The Data Center Group took in $5.9bn in revenue, down seven per cent and $300m below expectations: cloud sales were up 15 per cent thanks to "continued demand to support vital services in a work and learn-at-home environment," while enterprise and government revenues were down 47 per cent owing to "a weaker economy due to COVID-19." Overall, data-centric revenue was said to be down 10 per cent. This segment includes, as well as the DCG, Intel's Internet-of-Things group (down 33 per cent to $677m), Mobileye (up two per cent to $234m), non-volatile memory group (down 11 per cent to $1.2bn), and FPGA group (down 19 per cent to $411m).
Interestingly, although DCG volumes were up four per cent, the average selling price was down 15 per cent, suggesting Intel's slashing its prices to compete against, presumably, arch-rival AMD's Epyc family. Chipzilla admitted it encountered some competition, though it's also selling a mix of expensive CPU and cheaper non-CPU silicon to data-center customers, lowering the average price tag, apparently.
The PC-centric Client Computing Group's revenues were flat at $9.8bn. Revenues from chips for laptops were up 16 per cent, as folks snapped up stuff for working and sheltering at home during the pandemic, though desktop revenues fell by 16 per cent.

Net income was $4.3bn, down 29 per cent.
Gross margin of 53.1 per cent, a decrease of 5.7 percentage points.
GAAP earnings per share were $1.02, down 25 per cent from year-on-year, though in line with expectations.
For Q4, Intel forecast $17.4bn in revenues, just higher than expectations, and for the full year, $75.3bn, which is just higher than previous guidance.
"Our teams delivered solid third-quarter results that exceeded our expectations despite pandemic-related impacts in significant portions of the business," Swan said in a statement.
"Nine months into 2020, we're forecasting growth and another record year, even as we manage through massive demand shifts and economic uncertainty. We remain confident in our strategy and the long-term value we'll create as we deliver leadership products and aim to win share in a diversified market fueled by data and the rise of AI, 5G networks and edge computing."
Although Intel reported it had ramped up the manufacturing of its 10nm chips across three foundries in Arizona, USA, resulting in 30 per cent more production than earlier forecast, it's still very late to this party. Competitors, such as Nvidia and AMD, are already offering TSMC-fabricated 7nm chips. TSMC's 7nm more or less matches Intel's 10nm as a process node, meaning Intel has thrown away its global manufacturing lead.
For instance, Intel's 10nm Sapphire Rapids processors for high-performance computing, and its Alder Lake for desktop computers, are not expected to arrive until next year. In fact, Sapphire Rapids may be four to five quarters behind the delayed Ice Lake Xeons for most customers.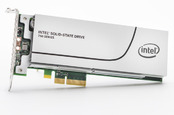 Intel offloads NAND business to South Korea's SK Hynix for a cool $9bn
READ MORE
Chipzilla hopes demand for its 10nm Tiger Lake, aka 11th-gen Core, processor line will boost its PC-centric sales over the coming year.
Intel said it expects to see "more than 150 designs from major PC makers," using the chip family, 100 of which are expected to hit the market by the end of 2020. It has also started shipping its DG1 Intel Xe graphics card, its first discrete GPU for over a decade. A DG2 is also being worked on in the lab. Swan was quiet about Intel's progression with 7nm cores, and said a progress report will be issued in January 2021 when Intel releases its next lot of quarterly numbers.
Intel also repurchased $10bn of its own stock in August in an effort to keep its stock afloat. It has now spent a total of $17.6bn on buybacks since 2019, and said it is planning to repurchase more over the next year. Intel announced last week it is selling its NAND and SSD businesses to South Korean chipmaker SK Hynix to raise $9bn.
Intel's shares were down by nearly 10 per cent to $48.85 apiece in after-hours trading. ®