This article is more than 1 year old
Singapore goes Cray-cray in the best way, picks HPE for new 10 PFLOPS super 'puter
$30m, 100,000-core beast will use third-gen AMD EPYCs and 352 – count 'em – Nvidia A100 GPUs
Singapore has picked Hewlett Packard Enterprises to build a new S$40m ($30m) supercomputer for its petascale National Supercomputing Center (NSCC).
NSCC supports high performance computing for research institutes, universities, government agencies, and companies. The new supercomputer is funded as part of a $200m investment by the Singapore government made in March 2019.
"The new system, which will be 8X faster compared to NSCC's existing pool of HPC resources, will expand and augment ongoing research efforts by enabling tools such as artificial intelligence (AI) and deep machine learning to optimize modeling, simulation and even software simulation for quantum computing," said HPE in a canned statement.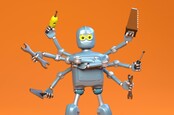 Tools down: Singapore's training bots and drones to digitize construction work
READ MORE
NSCC said [PDF] the supercomputer will provide up to 10 peta-FLOPS of computing capacity and is the first in a series of systems for Singapore.
The as-yet-unnamed machine is a Cray EX Supercomputer, which HPE describes as "a liquid cooled blade-based, high-density clustered computer system". It will run third-gen AMD EPYC CPUs and 352 Nvidia A100 Tensor Core GPUs. The EX supports AMD's 7003 EPYC series, which offers models from 32 cores at 2.95GHz to 64 cores at 3.675GHz.
The machine will be equipped with multiple 100Gbps links to help it work with other supers at the SingAREN-Lightwave Internet Exchange from the Singapore Advanced Research and Education Network.
Peter Ho, chairman of NSCC's Steering Committee, said:
Supercomputers have proven their value to the Singapore research community in many ways. Examples include simulating the dispersion of COVID-19 droplets to mitigate spread, helping urban planners develop our most advanced townships as well as advancing weather and climate monitoring research.
Ho promised the new supercomputer would unlock "even greater research potential."
NSCC labelled the system green, pointing out that it is one of the first known warm water-cooled systems of its kind in a tropical environment.
The supercomputer is scheduled to be operational by early 2022. ®