This article is more than 1 year old
Not keen on a 5G mast in your street? At least it'd be harder for crackpots to burn down 'a flying cell tower in orbit'
Another satellite constellation prepares for launch, this one aimed at next-gen connectivity for IoT devices
5G IoT operator OQ Technology has inked a deal with satellite firm NanoAvionics to build what OQ boss Omar Qaise described as a "flying cell tower in orbit."
Assuming that cell tower had a volume of 30cm x 20cm x 10cm and weighed 6kg.
The 6U satellite is the second mission for NanoAvionics with OQ Technology and will be the latest addition to the latter's Low Earth Orbit constellation. The plan is to provide basic commercial IoT and Machine to Machine (M2M) services, using 5G connectivity, to customers with a focus initially on Africa, the Middle East, Asia, and Latin America.
The mission, dubbed Tiger-2, will feature two payloads onboard the diminutive spacecraft; a primary payload for satellite-based IoT and M2M services using low frequencies, and a secondary payload aimed at demonstrating the use of high frequencies for IoT radio links.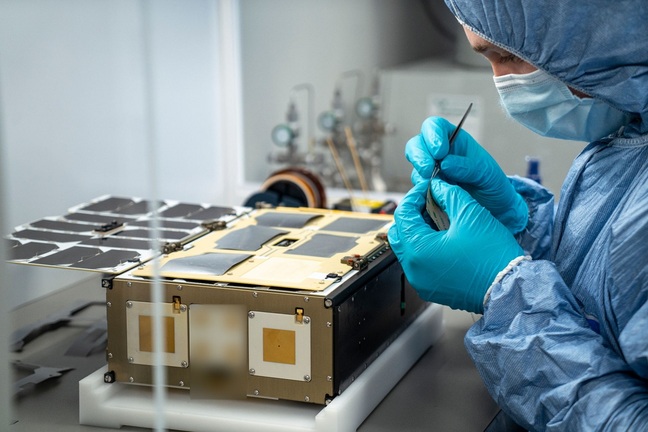 Engineer working on Tiger-2
Qaise told The Register that three missions were expected this year, and the target was to eventually have more than 60 satellites at an altitude of 550-600km "for real-time coverage." The spacecraft are expected to last five years and, if undisturbed, de-orbit within 25 years. "We can also actively bring them down," he added.
Where the likes of Starlink and Oneweb are aimed squarely at broadband services and shovelling large amounts of data around for applications such as streaming, Tiger-2 and its siblings target IoT devices. Qaise cited hardware such as sensors or tracking devices that require only short messages. "So instead of having millions of users with large amounts of data, you have billions of devices with small amounts of data."
Qaise also highlighted another key difference – rather than needing a router-like device to distribute the internet service, "we use the same existing mobile and cellular devices to connect to the satellite directly. The satellite acts as a flying cell tower in orbit."
It'll certainly be a challenge for 5G protestors to set on fire.
Two more missions are scheduled after Tiger-2, followed by a batch of six satellites. The plan is to eventually make the coverage global, and Qaise told us that customers would be able to use the service by Q3. The company also plans to secure frequency licences and partnerships in key countries.
For those groaning at the thought of yet another constellation (although one with considerably fewer satellites than something like Starlink) Qaise insisted that the chance of a collision in the selected orbits was low, and active monitoring and manoeuvring would be used if needed.
As for the ride to orbit, the mission will launch as part of the SXRS-5 rideshare aboard a SpaceX Falcon 9 later this year. ®