This article is more than 1 year old
Data centre outfit Interxion hit with outage at central London facility
Users complain: We weren't told that LON1 had done one
Updated European data centre operator Interxion suffered an outage at its central London campus last night, with no service from its LON1 data centre for several hours and users complaining the company was silent about what was happening.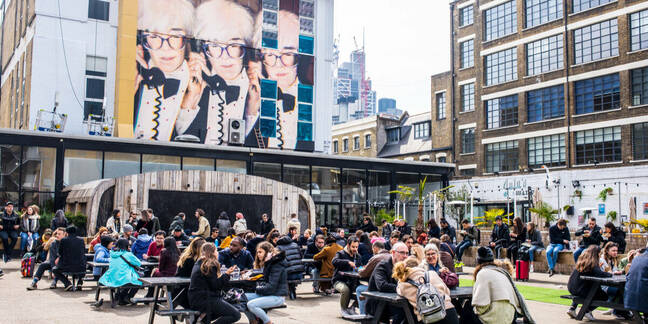 In pre-COVID times, clearly: Ely's Yard, behind the Old Truman Brewery building that houses LON1
The incident appears to have started shortly after 1800 UTC on Monday evening, with a loss of power at the LON1 site in the city's East End, which is conveniently located near to the financial district and the "Silicon Roundabout" tech hub in Shoreditch, according to Interxion.
Unfortunately for Interxion, built-in redundancy did not save it in this instance as the failure struck multiple power feeds into the building. Worse, it seems that the electronic switchgear designed to change the power over to an on-site generator also failed, and this prevented the company from switching between the mains supply and the backup generator supply.
A source whose employer is a member of the London Internet Exchange (LINX) informed The Register that there was "a flurry of emails on the member's mailing list covering the full spectrum from concerned (about what's going on and the possible extent) to angry (about lack of comms and inability to get hold of anyone from Interxion)."
LINX systems at the site appear not to have been affected, with the outage apparently affecting the entire first floor of the data centre site. It is not clear what may have caused multiple power feeds into the LON1 site to fail at the same time.
One user that was affected by the outage at Interxion's site was Vultr, a provider of cloud-based server infrastructure. Vultr's online server status notifications reported a partial outage in its London location starting at 1805 UTC, updating to show a complete outage by 1836 UTC.
By 2124 UTC, Vultr was reporting that "our data centre partner is continuing to work on restoring power to the site."
By this time, Interxion had apparently managed to restore some building systems and was attempting to restore power to the rest of the facility. It was 0136 UTC the following morning before Vultr was able to report that its entire London-based infrastructure was back online and operational.
Sargasso Networks, another Interxion customer, tweeted at 1938 UTC that it was "currently experiencing a major outage due to failure of multiple (allegedly resilient) power feeds at Interxion, over 90 minutes ago."
The company complained that "as Interxion have still failed to share any information and refuse to answer the telephone, we do not yet have an ETTR."
We contacted Interxion for a statement regarding the incident, and will update if we receive a response.
Interxion (pronounced "Interaction", apparently, a subject of some debate in the newsroom this morning) boasts of having facilities across 11 European countries and 13 metropolitan areas. It was acquired in 2020 by US data centre outfit Digital Realty in a deal said to be worth $8.4bn at the time.
We have asked the data centre outfit for comment and will update when it responds. ®
Updated to add
Interxion has been on touch to say: "At 1810 on Monday, 10th January, Interxion's Hanbury Street facility (LON1), experienced a critical power interruption, which impacted some of the mains control equipment and caused outages across the services in LON1.
"The problem was quickly identified and services started to come back online from 1945 until 2230 when the facility returned to operational status."
It added that it apologised "to all our customers and partners affected and for difficulties communicating during the outage."
"A full investigation is underway to determine the root cause of the interruption, the findings of which will be used to ensure an even more resilient infrastructure in the future. We remain proud of our reputation for global reliability and availability and have maintained five nines uptime over the past 14 years."