This article is more than 1 year old
UK Home Office signs order to extradite Julian Assange to US
WikiLeaker-in-chief to appeal Priti Patel's decision
UK Home Secretary Priti Patel today signed an order approving the extradition of Julian Assange to America, where he faces espionage charges for sharing secret government documents.
Assange led WikiLeaks, a website that released classified files including footage of US airstrikes and military documents from the Iraq and Afghanistan war that detailed civilian casualties.
It also distributed secret files revealing the torture of detainees at Guantanamo Bay, and sensitive communications from the Democratic National Committee and Hillary Clinton's campaign manager, John Podesta, during the 2016 US presidential election. 
The US government views Assange as a criminal who has violated national security laws and endangered the lives of spies and diplomats. But his supporters consider him a hard-hitting investigative journalist and whistleblower.
Assange has faced a lengthy legal battle to avoid trial in the US on espionage charges. He spent nearly seven years living in the Ecuadorian embassy after he was granted political asylum, and more than three years in Britain's Belmarsh prison after his asylum status was dramatically revoked.
After Assange lost his various appeals against extradition from the UK to America, British Home Secretary Priti Patel on Friday said he must be handed over to the US government to face criminal charges.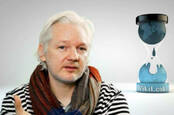 UK Supreme Court snubs Assange anti-extradition bid
PREVIOUSLY
"Under the Extradition Act 2003, the Secretary of State must sign an extradition order if there are no grounds to prohibit the order being made. Extradition requests are only sent to the Home Secretary once a judge decides it can proceed after considering various aspects of the case," reads a statement from the Home Office.
Assange can appeal this decision.
"On 17 June, following consideration by both the Magistrates Court and High Court, the extradition of Mr Julian Assange to the US was ordered. Mr Assange retains the normal 14-day right to appeal," the statement continued.
The Home Office said extraditing Assange does not violate his human rights and would not jeopardize his well-being. "In this case, the UK courts have not found that it would be oppressive, unjust or an abuse of process to extradite Mr Assange. Nor have they found that extradition would be incompatible with his human rights, including his right to a fair trial and to freedom of expression, and that whilst in the US he will be treated appropriately, including in relation to his health," the statement concluded.
Stella Morris, Assange's wife and a lawyer on his legal team, said in a press conference: "We're going to fight this. We're going to use every appeal avenue … I'm going to spend every waking hour fighting for Julian until he's free, until justice is served." ®