Review ALK Technologies' CoPilot Live has been at the forefront of Windows Mobile-based satellite navigation software for some time, but it's a relative newcomer to the Symbian operating system, offering a version of its route-planning application - now at version 6 - for Nokia's Series 60 user-interface only this year...
UK carrier T-Mobile began bundling CoPilot with some of its Windows Mobile devices last Autumn, so it was only a matter of time before it began pairing up Series 60 phones with ALK's Symbian-oriented offering. At the moment, it's pushing Nokia's N70 3G phone with CoPilot, and T-Mobile lent us a set to try out. We reviewed the N70 on its own a little while back. Now it's time to take a look at the navigation side of the story.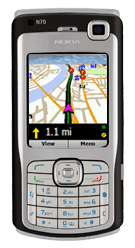 CoPilot ships on an RS-MMC card ready to be slotted into the N70. There's a licence code to enter first, then a brief activation period while the software emails home from the phone to confirm it's a genuine copy. Once all that's done, you're ready to go, though you've a three-day grace period so it's not necessary to activate the product immediately.
ALK's software ships with a branded Bluetooth GPS receiver based on SiRF's SiRFStar III chip - probably the best GPS chip there is. Certainly, I was able to get a satellite fix quickly and accurately even though I was sitting at my desk in the office with a further storey and the roof above me. Unlike the Bluetooth receiver rival Symbian sat nav seller Navicore provides, ALK's isn't compatible with the N70's AC adaptor. ALK only bundles an in-car cigarette lighter adaptor, so you can't charge up your receiver and pair it to the phone out of your vehicle. Since CoPilot Live for Symbian is so tightly tied to the N70, it's disappointing ALK didn't at least include an adaptor cable allowing you to charge the receiver using the N70's power plug.
Another drawback is the software's insistence you have the Bluetooth receiver paired and connected before you continue. I don't recall this being an issue with past versions of CoPilot I've looked at, but trying to run CoPilot on the N70 without the GPS receiver turned on automatically shut down the app every time. Sometimes it's handy to plot a journey then review the route before you travel, and you don't always want to do this sitting in your car just before setting off.