This article is more than 1 year old
Space Shuttle slated for early morning roll call
Atlantis back on track
NASA has nearly completed repairs to the space shuttle Atlantis' tank, which took a battering in a hailstorm earlier this year. Space Program managers are so pleased with the progress that they have decided to roll the shuttle back out in preparation for its eventual launch. All being well, the craft will start its journey at 4am, local time.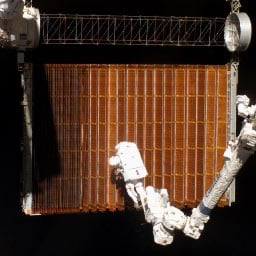 The foam covering of the fuel tank was hit by "thousands" of golf-ball sized hailstones, during a storm in late February, as it waited on its launch pad. Describing the need for repairs back in March, the agency said at least 1,600 "dings" would have to be filled, while the remainder could probably be sanded smooth.
Wayne Hale, Space Program manager, thanked all the people who helped on repairs. He said: "We're really proud of what they have done…in an unexpected circumstance amidst all the other work they have to do."
The mission, STS-117, will see yet more construction work take place on the International Space Station. As on earlier missions, the team of astronauts is charged with installing a new truss segment, unfurling new solar arrays and folding up an old one.
Kelly Beck, lead space station flight director for STS-117 said: "I jokingly call those flights the test flights for us."
The agency was keen to get a launch this month, since the current launch window closes on May 21. However, the schedule is such that there is no longer any chance of making that deadline. The next earliest possible launch date is June 8, and NASA has scheduled a "flight readiness review" on May 30. ®